9 x 9 Aluminum Register Cover (4948a-9×9) DISCONTINUED
Air Diverters & Deflectors for HVAC
Egg Crate Louvers & Light Diffusers
7.25 thru 8.75-Steel Register Cover (4948s-7-8) DISCONTINUED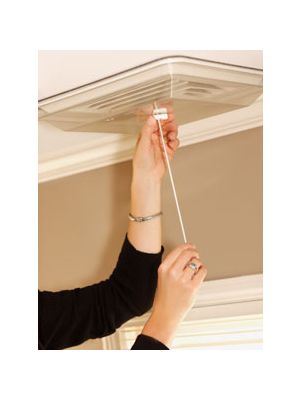 Elima-Draft Residential Vent Cover(4948-xx) DISCONTINUED
– The 4948s-9-10 cover fits most 9-1/4 to 10-3/4 OD STEEL vents/registers
2 Fluorescent Wrap Replacement Lenses
11.25 thru 12.75 Steel Register Cover (4948s-11-12) DISCONTINUED
– The 4948s-11-12 cover fits most 11-1/4 to 12-3/4 OD STEEL vents/registers
Ceiling Air Deflectors and Diverters
Elima-Draft® Insulated Magnetic Residential Ceiling Vent Covers form a barrier around your vent/registers and redirect valuable heated air back into your home. Cold air stays out and warm air stays in.
Notify me when this product is in stock
Elima-Draft air vent covers are available in a variety of sizes and can fit most standard sized registers, including 9 x 9, 11 x 11, 13 x 13, and others. Aluminum and steel versions are also available. At , we offer a full array of ceiling vent covers suitable for a wide array of installations and applications. Shop our expansive inventory of AC vent covers and save on all of your ceiling repair needs.
Aerosol Stain Blockers & Spray Glue
Available Sizes for Outside Dimensions=OD:
Be the first to review this product
Elima-Draft Residential Vent Cover(4948-xx) DISCONTINUED
– The 4948a-11×11 cover fits most 11 OD ALUMINUM vents/registers
9.25 thru 10.75 Steel Register Cover (4948s-9-10) DISCONTINUED
– The 4948a-9×9 cover fits most 9 OD ALUMINUM vents/registers
11 x 11 Aluminum Register Cover (4948a-11×11) DISCONTINUED
Elima-Draft air vent covers are specially-designed to fit over most standard-sized air vents. These ceiling vent covers attach firmly to the steel screws holding your central air conditioning registers in place through the use of precisely placed heavy duty magnets. An Elima-Draft AC vent cover forms an effective barrier around the register that prevents cold drafts from entering the room and keeps the warm air from leaving the room. And, because Elima-Draft register covers are fully-insulated, youll enjoy greater indoor comfort and lower heating bills.
Address:2643 Grand Ave., Bellmore, NY 11710
– The 4948a-13×13 cover fits most 13 OD ALUMINUM vents/registers The 4948as-Rect cover fits most 14×8, 14×6, 12×8, 12×6 OD Rectangular covers in Aluminum & Steel
SAV-A-CEILING Acoustic Ceiling Coating
14×8, 14×6, 12×8, 12×6 Rectangular for Aluminum & Steel One unit fits all four size vents. (4948as-Rect) DISCONTINUED
Working Days/Hours:Mon – Fri / 8:30AM – 4:30PM
4 Fluorescent Wrap Replacement Lenses
White Flexible Overlay & Basket Lens
– The 4948s-7-8 cover fits most 7-1/4 to 8-3/4 OD STEEL vents/registers
We had a goal of creating a consolidated spot on the web for you to get answers to all of your ceiling needs. Look around, become a member of the forum, ask away. guarantees to simplify your life, one ceiling solution at a time.