L.L. Bean aluminum shelf lamp(1987 to 1989)
Like every good collectible, there is aclub for Aladdin lamp enthusiastscalled the Aladdin Knights. They have a newsletter that can contain research results not published in Courters book. They also have gatherings which provides opportunities to actually see rare models.
Washington drape plain stem(191 to 1955)
Deluxe font lamp(1999 through today)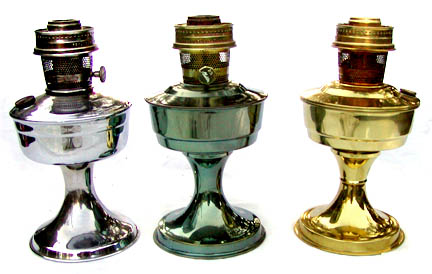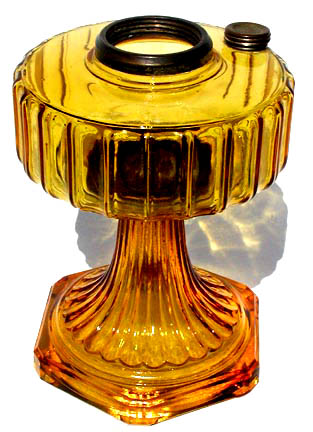 Diamond quilt Brazilian lamps(1974 to 1975)
If you have an interest in Aladdin kerosene lamps THE essential book to own isAladdin The Magic Name in Lamps by J. W. Courter, ISBN 0-9618879-2-3. This is aMUST HAVEbook on Aladdin lamps that is well researched and well written. Bills book is primarily focused on Aladdin lamps marketed within the United States and Canada.A copy of this book can be purchased through the Aladdin Knights web site.
Corinthian(1935 to 1936)
Australian, United Kingdom, and Hong Kong manufactured lamps
Art glass shade was not made by Aladdin
Models of Aladdin metal lamps,descriptions, pictures and conjectures
1924 Aladdin catalogue for model 11 lamps. Click on image to download pdf version
Model B glass font lamps (1935 to 1953)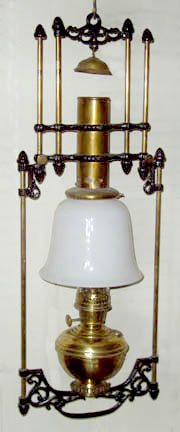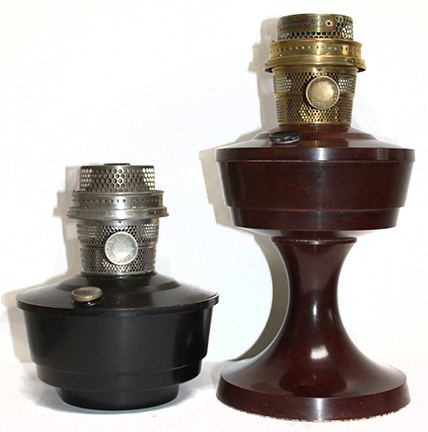 Model 8(August 1919 to 1920, Not sold in Canada)
Simplicity(1948 through 1953)
If your interests leads you to Aladdin lamps sold in Australia the essential reference book is Allin HodsonsAladdin Kerosene Lamps in Australia, ISBN 0646377558. Printed by Hyde Park Press in Australia. Lamps produced by Aladdin Australia are unique in their design and shows the practical Australian approaches to meeting the needs of the people who used the lamps.
Pedestal shelf lamps(1955- 1956 and 2011 – )
The new Aladdin MAXbrite model 500 family of burners replaces the Aladdin model 23A burner
Model 5(September 1913 to August 1914)
Aladdin started manufacturing glass lamps concurrently with metal lamps starting in 1932. The first year glass lamps (Venetian, and early Colonial lamps) used a Model A burner. Glass lamps produced through 1954 used the model B burner. There was a glass lamp made in Brazil that used a model C burner. Glass lamps produced between 1974 to the present date use variations of the model 23 burner. Glass lamps manufactured after 2016 use the MaxBrite burners.
Model 2(September 1910 to December 1910)
Brief history of the incandescent mantle
Washington Drape round base(1939)
Learn more by visiting theMAXbrite model 500 family burner page
NOTE:The side draft Aladdin burner labeled Super Aladdin is also known as the Aladdin model 14 in the UK and the Model 16A in Australia. This burner started out from the Aladdin model A burner tooling, which was shipped from the US to the UK. The UK burners evolved from this tooling.
If you would like to discuss any of the contents please feel free to.
Model 11(September 1922 to May 1928)
If your collecting interests leads you to the early evolution of kerosene mantle burners, the place to look is Germany where mantle lamps were invented and the book to purchase is calledThe Evolution of the Kerosene Mantle Burnerby Anton Kaim.This is a self published book sold directly by the authorand does a very good job of covering the inception and comparative evolution of the mantle burner, most of which took place in Europe. This book an excellent reference for burner and parts identification. This book covers the Burners developed in Europe, German burners imported to North America and Aladdin brand burners.
Most of this web site is dedicated to documenting the Aladdin brand of lamps. Aladdin was andis still the most successful brand of non-pressurized kerosene mantle lamp. They did not achieve this success because they had the best lamp design but because they had a good product and leading edge marketing. It was a combination of ongoing innovation in both their products and marketing that allowed them to dominate the mantle lamp market.
Washington Drape bell stem(1941)
South African sales region model 23 aluminum table lamp(1976 to 1977?)
Look for advertising brochures, manuals and price lists on page for each lamp model
Illustrated lexicon of Aladdin lamp termsLearn what all those lamp terms mean
Model 6(September 1914 to July 1917, In Canada to August 1920)
Alacite pedestal shelf lamp(1955, 1956)
Model 3(January 1911 to August 1912)
Model 21C (May 1963 to December 1969)
Aladdin lamps from Argentina(1928 or 29 through 1945)
Nashville Treasure(1949)
Aladdin model 4 narrow frame hanging lamp
Other brands of kerosene mantle lamps contents page
English model 23 aluminum lamps(1969 to 1977)
Aladdin to Ziu: The Early Kerosene Mantle Lamp in Americaby Thomas W. Small and James R. Christner, ISBN 978-0-692-90920-1, does an excellent job of documentingpre-1930 non-pressurized kerosene mantle lamps both made and imported into America. What makes this book unique and important is that it tells the stories of the people and companies behind the lamps and adds a perspective you will not find elsewhere. While Bill Courters book does an excellent job of telling the story of Aladdin, this book puts that story into perspective with the rest of the early American mantle lamp industry. It is a well researched chronicle that pulls together hard to find information. If your interests go beyond just collecting lamps and you want to have a deeper understandingof the early American mantle lamp industry, you want to purchase a copy of this book. Copies of this book can be purchased directly from Thomas W. Small, 201 Hemlock Lane, Meyersdale, PA 15552.
This web site is not affiliated with Aladdin Mantle Lamp Company. Aladdin, and Lox-on are registered trademarks of Aladdin Industries LLC
Flame spreadersCovers mantle lamps sold in the US including Aladdin
1653 plastic table lamp(1953 to 1956)
© 2002, 2015 byTeriAnn Wakeman. All rights reserved.
In Australia, both the UK model 14 burner and the US Model B burner were used. In Australia the UK model 14 was referred to as the Model 16A burner and the US model B burner was referred to as the model 16B.
Model 4(September 1912 to August 1913)
Aladdin transition and factory hybrid lampsAladdin didnt throw away parts when they introduced new models. They used up materials on hand creating factory hybrid and transition lamps.
Model C( 1955 to 1963) Initial draft page
Much of the information in this web site is based upon the research and contributions of others as well as those of my own. I intend this site to to be an illustrated supplement reference that fills in some gaps not well covered in other published works. It is not intended to parrot previously published works nor to replace them.In appreciation.
IMPORTANT: Bill Courters book on Aladdin lamps ( Aladdin The Magic Name in Lamps by J. W. Courter, ISBN 0-9618879-2-3) does an excellent job of covering the Aladdin model A and model B glass lamps. I have no intention of trying to duplicate his fine work. My intention is to supplement his work by adding newer glass lamps and limited edition glass lamps. The model A and model B glass lamps described in this site are of lamps I own or have owned. As such the descriptions may not cover all the variations of these models. If you need more information about different model A or B glass lamps I strongly suggest that you purchase a copy of Bills excellent book.
Manufactured from 1909 through the present day (Dates for American lamps are for North American price list)
Tall Lincoln Drape(1940 to 1949)
IMPORTANT NOTE:Throughout this web site I make conjectures based upon my empirical observations and literature research. Please consider these conjectures to be working hypotheses and not fact. Only the people who were there and made or carried out the decisions can know the facts for sure. For the rest of us it is just guesses based upon what we can observe.
Short Lincoln drape( 1974 through present)
Kerosene mantle lamps represent the peak of kerosene lighting technology. The lamps themselves reflect American society, manufacturing technology, and the American entrepreneurial spirit in the beginning of the 1900s. The startup costs were minimal when it comes to purchasing burners imported from Germany and placing them on brass lamp bodies manufactured in the US. Much of America was rural and without electricity at the turn of the century. Marketing and sales into rural America were largely through independent sales representatives going door to door with salesman cases demonstrating their wares. These lamps dont just stand alone, They are a part of the American fabric. If you look closely, you will see the fabric of the first half of the 1900s reflected in their their design, the entrepreneurs who sold and marketed the lamps, and the homes that were lit by them. Lamp collecting can be a much richer hobby than just collecting each one and placing them on display. The hobby of collecting these lamps can be as rich as you want it to be. You might collect lamps for the hunt and display of the lamps or you might use them to better understand the evolution of kerosene lighting and lamp manufacturing technology. Whatever your interest in these lamps I hope you find something of use in this web site.
There is lots of good stuff being placed into these Aladdin lamp web pages. Check back often as I add more lamp data. I have a minimal budget to pursue my hobby so I can not afford to go out and buy pristine condition lamps. Since much of this site is illustrated by lamps from my personal collection expect to see a lot of dents and finish flaws. These are the best I can find and afford. Since I have started this site others have helped out by sending me jpeg pictures of lamps I do not have for use in this site. I appreciate your help in adding to this web site. Thank you.
Brief History of the Aladdin Lamp Company
Log Cabin stoneware shelf lamp(1984 and 1985)
Aladdin oil pots(Model 1 through B and 23)
Grand Vertique(2017) Aladdin Signature Series lamp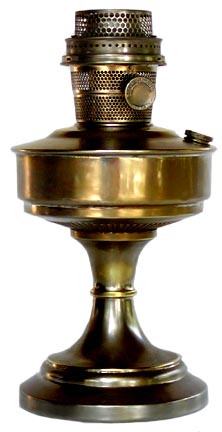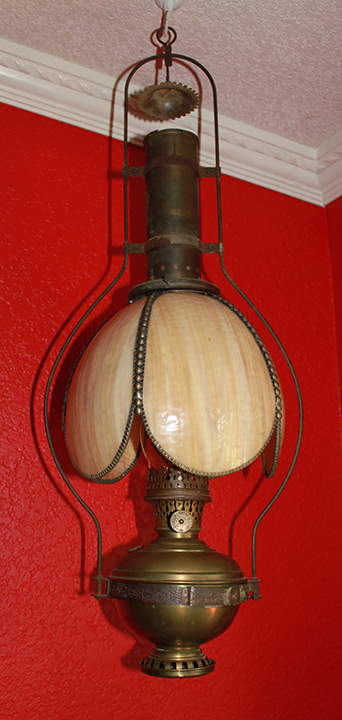 FrenchModel 12 shelf lampbased upon the 12 oil pot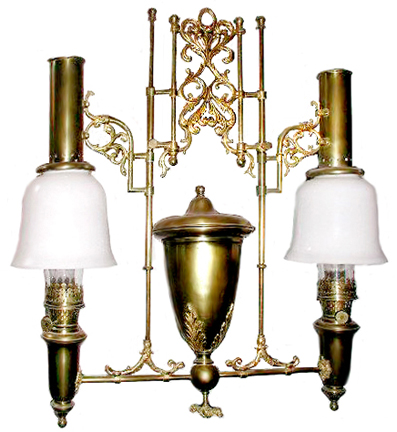 Model 7(August 1917 to July 1919, Not sold in Canada)
Genie III(1999 through 2017) + American Lamp Supply versions
Models of Aladdin glass lamps,descriptions, pictures and conjectures
Model 12(May 1928 to April 1935 in the US, Sold in Australia through 1945 or 46 and the UK into 1939 or 1940)
Lincoln drape shelf lamps(1975 through 1993)
Quality checked and assembled in the USA. The best burner since the Model B
Some UK metal lamps were painted Cream white as well
Linksto other collector sites, and some reputable companies that sell Aladdin lamps and lamp parts
Model 14 Cottage lamp from the UK(First half of the 1930s, sold in UK only)
MAXbrite model 500(2015 – present) (burner page)
Aladdin Started in business in 1908 selling the German made Practicus burner on a Plume & Atwood manufactured lamp base. In 1909 they started selling their own brand metal lamps starting with the Aladdin model 1 lamp.
Deluxe table lamp(1999 through today)
Regencyshelf lamp (1980 to 1994)
Mariner shelf lamp(1981 to 1994)