Vortalex Bakelite knobs made for us in the U.S.A. on our own exclusive tooling.
Our Featured Restorationgallery spotlights a particular antique electric fan that we our pleased to honor with a photo spread. Answers to some of your questions may be found on ourFAQpage.
We offer professional vintage fan restoration!
Q: Do you sell Antique Ceiling Fans & Desk Fans?
Do You Remember Sleeping Under that Antique or Vintage Attic Fan? Still Have It and Need the Motor Repaired?
INVEST IN THE FANS THAT WERE TRULY BUILT TO LAST!!
We are glad you are here. We specialize in the restoration of antique and vintage ceiling fans and desk fans that were manufactured in the United States from the 1890s to the 1950s. Most antique and vintage desk and ceiling fans are fully functional when properly restored and will give you many years of enjoyment, as well as, complement any setting. Vintage electric fans covered the design spectrum through the decades. From Art Nouveau, Art Deco, Art Moderne, to Jet Age styling, examples can be found in different models of electric fans that allow them to add to thedesign elementof a room, rather than simply serve a utilitarian purpose.
LIQUIDATION SALES IN PROGRESS! CALL OR WRITE!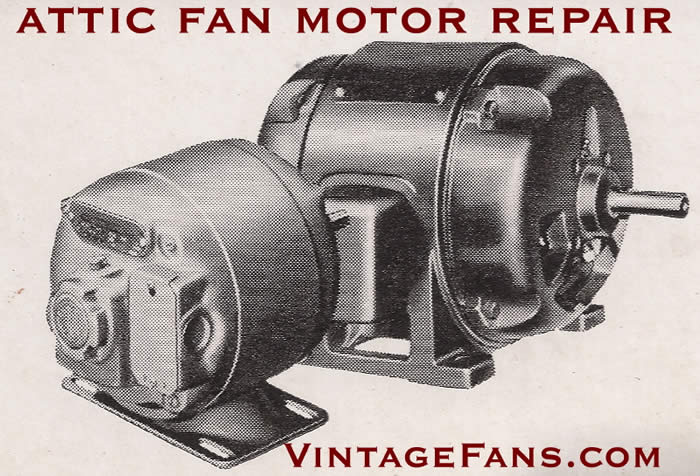 UNRESTORED INVENTORYFAQRESTORATION PROCESSLINKS
Need an Antique or Vintage Motor Repaired? We also Service and Rewind Many Types of Antique and Vintage American Made Electric Industrial Motors!Send it to us!
A: YES!If you would like to purchase an antique or vintage ceiling, desk, or other type of electric fan, we have several available in our inventory that we cancustom restore to your specs. Since our inventory consists of only genuine antique or vintage fans, limited availability is always a factor. Please contact us for specific information regarding availability on different models.
If you do not locate a particular antique or vintage electric fan in our past ceiling fan restorations or desk fan restoration galleries that might suit your needs, please visit the Unrestored Inventory or Unrestored desk fan galleries. These galleries features our diamonds in the rough just as we find them, all of which are available for saleinclusive of a full restoration. Please be advised that most of these antique electric fans have 70, 80, or even 100 years of dirt, grime and grease which camouflages the artistic beauty hidden beneath. Sometimes their unrestored appearance may be shocking to the eye, so please be advised. We can restore any of the antique or vintage electric fans pictured in our Unrestored Inventory to the same professional quality and standards as those seen in our othergalleries. On occasion we will place an antique electric fan in our Unrestored Inventory gallery that has attributes that make it exceptional, so check back often to see whats new.
Whether you are restoring a home or building and need that finishing touch that an antique ceiling or desk fan provides, or perhaps you own a vintage ceiling or desk fan that you would likeprofessionally restored, in either case we can help. We can restore your antique or vintage ceiling fan in any custom color or finish that you desire. Although many antique desk fans were originally painted black, custom colors or finishes are also available that allow them to blend with any dcor. Examples of past restorations can be seen in our galleries.
Full Service Electric Fan Motor Repair Shop!
Do you need your antique or vintage American made fan motor repaired? Send it to us and we can repair it or if needed, completely rewind it for you. We have one of the nations foremost authorities on early electric motors on the team at , Mr. Sam Morgan, with over 40 years of experience working with antique and vintage ceiling and desk fan motors. We offer a total electric fan motor rebuild, including machining bearings, shafts, and other parts needed to renew your motor to the performance standards that will typically exceed factory tolerances. Give us a call oremailif you have a motor that needs servicing or repair. We do it all, the correct way!
We Proudly Restore, Sell and Service the Vintage Electric Fans and Motors that Made America!
VINTAGE FANS EXCLUSIVE!!3SPD.REPLACEMENT SWITCH & KNOB COMBO FOR 1939-53c. G.E. 12 & 16 DESK FANS.Value pricedjust $39.95 ea. plus s/h FOR THE COMBO
PROUDLY MADE IN THE U.S.A. , TWICE!! DON T BE CONFUSED BY REPRODUCTIONS THAT ARE MADE IN CHINA. IF YOU REQUIRE THE BEST,