Baldwins 2Fredric E. Baldwin, John Simmons
Grier Bros. Grier Brothers Manufacturing
Nickel plated lamp with aluminum reflector. I can only wonder why the Dewar Co. started using aluminum back then. It was pretty expensive then but maybe they figured that Its Trouble Proof. The bottom has some stress minor cracks.
This one has 5 solder repairs on stress cracks and the striker is rusted solid but it will still run. The bottom doesnt leak gas and the top holds water. I tested the water valve and it also works. It has an unusual aluminum reflector.
A dead ringer for the X-Ray lamp. This is the mysterious little lamp that no one seems to know for sure who made it. Some think it was really made by the Fulton Tool Works others think it was Emmons Hawkins Co. of Huntington WV. The bottom is stamped EM Haw Co Huntington WV.It is missing the cap retaining wires but is in otherwise great shape.
A neat lamp with the J&T cleaner. It only has one dent to water door, and very minor dings to the reflector. The cleaner wire needs to be replaced though. You dont see many of these with the cap hook and braces still intact.

This is a nickel plated lamp with about 5% left. The reflector looks like a replacement that got beat to hell. This might be useful for parts.

Guys Dropper Shanklin Manufacturing Co.
Baldwin BrassFredric E. Baldwin, J Simmons
A Nearly perfect nickel plated lamp. The nickel is 99% intact. No cracks or dents. The only flaw in this lamp is a loose solder joint where the water door hinge wire connects to the base.




A combination supervisor or cap lamp.There is only one small dent on the side and about 85% of the Nickel is intact. What makes this item unique is the original mailing box from the Dewar plant. It has a 12 cent stamp and has little metal tabs that fold over to seal the box.
Guys Dropper Shanklin Manufacturing Co.
I have only 3 foreign lamps in my collection. I include it for the reference value and also because there are so many of them around. They were one of the last companies to continue to make carbide lamps after all the American companies quit.
The picture doesnt do justice to the patina on this lite. No dents and no stress cracks. The water fill tube is intact and the cap hook and braces are in place. There is some slight corrosion on the steel reflector.
Premier Premier Manufacturing, England

In mint condition and In original Box.



Click the thumbnail for a better view. There are hyperlinks to the highlighted manufacturers names. Click them to view more information . Please note that my reference to rarity is a guestamate and is a subjective opinion.

valve. It is like the one pictured in Pohs book on page 450. This one is fairly rare as I have only ever seen a few with this plain vertical sides.
Guys Dropper Shaklin Manufacturing Co.

turned up with the solution to the mystery. It was Arrow division, Universal Lamp Co.

This is one of the early models of carbide lamps made in Scranton Pa. It was called the Scranton lamp and then
ZarJohn Simmons, Zar Manufacturing Co.
Nearly new and in the original box.This lamp has been fired but is in perfect condition. It has no patent date on the top. I think the original owner just test fired this one and then stored it away.
plain WB and the bottom is like a MFLC C-11 except that there are no markings on the bottom and the raised rectangles are not as distinct as on the Guys Dropper C-11. I got this one from a trader in New South Wales Au. . It is in perfect condition.



Flat blade water lever type. Missing the bottom cap wires and has a Justrite bottom.


First patented in 1899 and first production in 1902 out of


It has a beautiful copper patina and came from the lead mines of S.W. Wisconsin. The bottom has a stress crack that goes all the way through. I could repair it but it would detract from the look.
HansenA. L. Hansen Manufacturing Co.
shortened to the Scranto .It has an unusual reflector with a bail support which allowed the reflector to snap on. The patina is typical of the northeastern lamps with an olive cast. It has a patent dates of Sept. 12-1911 and Dec 16-1913 on one side and the Scranto trademark on the other.

BaldwinN/PFredric E. Baldwin, J Simmons
I have collected both common, semi rare, and a few rare lamps. There conditions are from a 1 (junk parts) to 10 (mint condition). I have included as many different Cap lamps as I could to present a reference for collectors and a means of identification for anyone else. If you are a collector and notice any discrepancies, please submit a comment in my personal page or just E-mail me .





3 Frank Guy lamps of the 3 date Variety, banded top lamps. All are complete and in working order. One is shown without lava tip but does have one now. The one on the right has some repairs.



The Lamp is a older model Vertical 661 with a spiral feed water






Just one more rare lamp from Scranton Pa. This unique lamp with a clip on reflector. Its a relatively plain lamp with a simple valve and an interesting reflector.
Both lamps are missing the reflectors and one is alsomissing the cap hook.
Brilliant Search Light Rudolph C. Kruschke



The illusive wolf brass cap lamp. With its rounded design it looks more modern than most lamps. The reflector is the only part of this lamp that has any wear and tear. The bottom looks unfired inside although I know better. No cracks or dings on this one.



Polygon Feed Victor lamp. There is not a scratch, dent or crack on this light. It looks perfect in every sense . It has been fired, but not often, (at least it didnt inhale) it looks too good. It caries the Victor trade mark, and patent applied for on its top.
2 date variety with banded top. The outer 2 have no reflector and are either repaired or have cracks. The middle one is intact and in working order.

Duluth, Minnesota. The brass belt mounted carbide container has a spring feeding cup and looks like it would hold more fuel than a standard cap lamp. This takes a lot of weight off of the hat. The steel cap burner has a chimney and cover for foul weather. It

Guys Dropper Shanklin Manufacturing Co.
2 date variety with plain WB top and MFLC C hex bottom. There are no dings or cracks. The lamp seems to have been painted gold.
This is still a half shift (3-4 hour) lamp but is called a supervisors lamp because of the handle. The finish appears to be chrome but might be nickel. The finish is 99% intact with no dents or cracks. The reflector

Guys Dropper Shanklin Manufacturing Co.

Springfield Meyer Stein Manufacturing Co.

may not be the original for this lamp. I am looking for a reference to compare it with.


This is a fairly rare lamp made by Meyer Stein before he sold the company to Ashmead Manufacturing in 1922. It has the hex bottom. The patina is great with a kind of olive/beige look to it.
Justrite lamp new in box with original instructions. The box is marked model 830W and is also in good condition

also has two lenses that swing into place. The large lens gives a broad beam and the small a more focused one. This is quite a rugged design.

2 date variety with plain WB top and double banded CB bottom. The reflector is a little tweaked but is otherwise in good condition. There are no cracks or dents.
Flat blade water lever type. Missing the bottom cap retainer and has a small dent in the water door. The patina makes this one look like copper. Its a beautiful lamp.


Unfired and in the original box. This has a flat blade cap mount and a rubber bumper on the bottom. It has no patent date on the top. The box is in real good shape.
The lamp on the left is missing the water door and reflector. The base is a rare Elkhorn type hex bottom but is smashed. The right lamp has a Premier bottom and is missing cap hook and brace.
An unfired perfect specimen. There is a little corrosion on the reflector but that would be expected. It also has an extra unfired base with instructions. Absolutely beautiful . It was advertised as the best

Guys Dropper Shanklin Manufacturing Co.

This is one of the prettiest lamps in my collection. The machine work was excellent when you consider that aluminum was not a common metal for lamps at that time..
Nickel Plated Arrow lamp with screw on reflector.The manufacturer was not known untill just recently. It was originally thought to beeither Shanklin or United lamp, but a box

Guys Dropper Shaklin Manufacturing Co.

lamp built and was certainly one of the best. Fredric E. Baldwins pit lamp was a model for many lamps to come.
As you can see this light has one dent in the top and a little corrosion on the reflector. This is a classic Simmons. I have often thought of taking the top off of it and punching out that dent.

This Horizontal Justrite lamp is marked with the date of May 7,1912 It has the round water door and the raised Justrite markings on the side. I have not seen a lot of lamps with this combination. The lamp hook and braces are intact.

This is an Australian Demon Strikelight. It only has the name on the top without any other markings. The lamp appears to be an Australian version of the Guys Dropper. The top is very similar to the Guts Dropper
These lights can take a licking, and this one has. A few dents and scratches but I think this one would still fire up. The reflector for this lamp is from I dont know what , but it looks cool.
A nearly perfect little lamp, no cracks and very little corrosion. It only has one small dent to the right of the water door, the water valve points to it in the top photo, you have to look hard to see it.


The picture doesnt show the nickel plating but it is at least 80% complete and no stress cracks. The lighting gives it thebrass look. A nice light .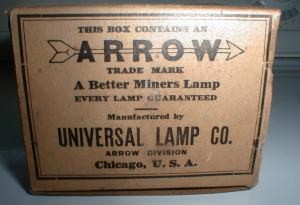 The Lamp is a Horizontal Justrite with the oval water door. I dont know anything about the stick except that the front part that goes around the lamp looks homemade. It is a piece of copper wire that doesnt snap over the stick, it is just bent around it. This looks like the one in

No date variety with banded top. The lamp on the right has a large dent on the bottom.

Very little is known of the origins of this lamp except that it is similar to an Autolite and possibly made in England. Some Daylight lamps have a P&H trade make ((Powel and Hammer, Birmingham, England) on the side but this one does not. It is only somewhat similar to the Autolite The water door is oval and not round. The single band around the top and the double bands around the base have a 45 degree notching instead of the 90 degree Autolite pattern. The reflector brace and retaining nut are also not the same. The cap hook and brace are completely different. They are the simple solder on style.
This lamp has the rare and clever J&T valve cleaner. This innovative button when pushed would send a fine wire into the flame tip and clean out any soot. It also has the clip on reflector. What a great little light. Its got a beautiful patina and only a couple minor stress cracks on the bottom.

This is a combination supervisor or cap lamp. The incandescent light makes this lamp look like brass but it is nickel plated and 95% intact. The clever little handle folds down for cap mounting. This really is a pretty light with the little sun face logo and star burst reflector. It is my favorite lamp.
A very special addition to any collection. This near mint condition lamp is very rare and was patented by Charles Hoppe, formerly of the Charles Hoppe company, that also made the Ever-Ready lamp. In 1915 Mr. Hoope joined Harker Manufacturing.An unfired Brite Lite is pretty hard to find.

Grier Bros. Grier Brothers Manufacturing
This lamp is stamped with Justrite Streamlined. It has no date only a Patent Pending and Made in USA markings.

A classy X-Ray Fulton Imperial lamp. This is the sister to the illusive EM. Haw lamp. It is in perfect shape except for the cap hook retainers. They appear to have been cut in half to fit an odd shaped cap.
A. L. Hansens best the Force Feed lamp. This is a great lamp that was built to last. Great craftsmanship. There are no dents or cracks. A piece of the clip that holds the striker knob is missing but it still works.