CCB7150-9 Basket Style Empire Chandelier
12 Light Classic Georgian Style Chandelier in Brass CLA-12
Closer to home the Company has supplied and fitted to Hotels, Country Houses, City Town-houses and Castles in both the UK and Ireland.
The Crystal Chandelier Company is now the Company that not only Supplies but also Maintains and Refurbishes The Ultimate Finishing Touch.
ROXLS 24 Royal Chandelier Edinburgh Scotland UK
© 2014 Crystal Chandelier Company. Edinburghs Luxury Lighting Boutique.
Although starting out life as Retail Companydue to its reputation for quality products and a high level of customer service the Company started to receive more and more enquiries for cleaning and renovation to chandeliers other than our own. Some of the chandeliers concerned were valued in tens of thousands of pounds. This was originally dealt with by way of sub contracting but due to the volume of requests it was decided that the Company should expand to enable it to deal with them in house.
6 Light Classic Georgian Style Chandelier in Silver CLFS-6
CCB5152-6+4-NK Basket Style Empire Chandelier
At the time of conception it was decided that whilst the Company would be internet based it was important that this side of the business should be supported and enhanced by a retail display presence allowing customers to visit and see samples of our products which gives them peace of mind with regards to the high quality of our product ranges. To accommodate this requirement a suitable site was found in the heart of Edinburghs World Heritage New Town District of Stockbridge.(See Contact Details for Directions). Please feel free to pop in and have a chat whether it be about the chandeliers or for help on sizing or any of our other product services we offer.
36 St Stephen Street, Edinburgh, EH3 5AL
The Crystal Chandelier Company Limited was founded in April 2004 by husband and wife team Doreen and Iain Liddle who remain the sole directors of the Company.
CCB7330-13 Basket Style Empire Chandelier
Over the past 9 years The Crystal Chandelier Company Limited has supplied its products worldwide, shipping to Australia, Hong Kong, India, Japan, New Zealand, Thailand, USA as well as mainland Europe.
CLDS 18 Classic Georgian Chandelier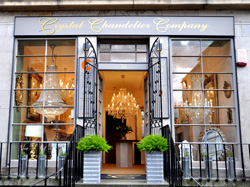 CCB5140-4 Basket Style Empire Chandelier
CLICK HERE TO VIEW OUR ONLINE CATALOGUE OF CRYSTAL CHANDELIERS
Welcome to the Web Site of The Crystal Chandelier Company Limited.
Here are a selection of our chandeliers for sale. To view our full collection please view our online catalogue.