A few months later the US model A burner was introduced in the North American market. The model A tooling was also developed and located in the US. Two sets of model A tooling were used during the year that the model A was in production for the North American market. This can readily be seen comparing model A burners made by the different tooling. It appears that US customers had problems with the difficulty of installing a new wick on the model A burners. The decision was made to keep the model B burner in the US to replace the US model A burner and to ship a set of model A tooling to the UK.
Aladdin took their burner technology to the war effort with a number of products ranging from field cook stoves and refrigerators for field hospitals to shipboard coffee urns. In England Aladdin burners were used in aircraft parked outside as dehumidifiers to keep moisture out of equipment. The thermos products part of the company branched out and grew as well.
In 1926 The Mantle Lamp Company purchased the Lippincott Glass Company to produce glass lamps and shades. In 1930 the first vase lamps were introduced using model 12 oil pots in Aladdin manufactured glass bottomless vases. These same glass vases were also used to make Aladdin electric lamps as well.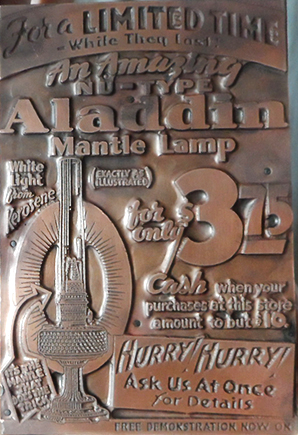 Early 20th century America and Canada were largely rural. Country wide sales were made by independent sales agents who were granted exclusive sales territories and went house to house to sell their products. One of the Connecticut Trading companys early independent sales agents was Victor Johnson who formed the Western Lighting Company in Minneapolis, Minnesota to sell Practicus lamps under license from The Connecticut Trading Company.
The third lamp sold by the Mantle Lamp Company of America and the first of over 100 years of Aladdin lamps.
The new company focused on upgrading the quality of that lamp parts and providing the product line with a much needed face lift that better reflected the Aladdin lamp roots. At this point it seems that the new company is largely supported by sales of limited edition boutique lamps to collectors.
With very few exceptions Aladdin didnt just didnt go to P&A and say make me an entirely new design with new tooling for the next sales season. All new tooling is what makes the model 7 such a revolutionary lamp. It was the first Aladdin lamp that required a total change from existing P&A lamp tooling.
Americans did not accept the difficulties involved with inserting a wick into the model A burner. With the wick adjustment gear inside the wick movement area the wick tended to hang up during insertion. The model A burner tooling was shipped to the Greenford plant in the UK and the model B tooling went to the Connecticut Plume and Atwood manufacturing plant.
Aladdin headquarters was moved from Chicago to Nashville in 1949. At this time the wick adjuster knob tooling was changed so that Chicago was replaced by Nashville on the model 12 and B burners (12 burners were still in production for the parts replacement market and possibly export).
The early 1908 cards were used to recruit sales agents. Note that there is no company name mentioned. The card appears to have been made soon after Victor Johnson arrived in Chicago and before he was granted incorporation papers for the Mantle Lamp Companyof America.
The Mantle Lamp company lost no time in advertising that they had the kerosene lamp judged to be the best in the world. They focused on the world fair award in their advertising and started offering a $1,000 reward to anyone who could prove that another lamp was better.
To keep costs down, tooling changes were minimal and the existing tooling was used through as many models as possible. If you compare individual stampings of adjacent models you can get an idea of how many parts were carried over from model to model and when tooling wore out and needed to be replaced during a years production run.
Photographed in a mirror by Stephen Fowler
The Aladdin model 1 and 2 lamps were basically generic P&A designed centre draft mantle lamps. Early shades were generic off the shelf glass shades for that era and the wall mount brackets, fount lamp hangers and shade holders were the standard P&A type. The mantles and chimneys were imported from Germany. Within a couple years Aladdin was contracting independent glass companies produce glass shades and chimneys and had established their own in-house mantle manufacturing facilities.
When you look at the changes from model to model it helps to keep in mind the economics of creating expensive tooling and the need to get as much use out of it as possible. When you look at individual lamps, remember the economics of existing inventory at model change time. These two taken together can give you a lot of insight to what you observe.
Making tooling to form metal is expensive and takes time. Unless you are talking about changing some minor stamp dye in a tool you need to sell a lot of lamps to pay for tooling changes. It was a lot cheaper to have your company name stamped onto existing generic parts than to pay for the tooling to make different lamps. The fact that P&A was selling the same parts to a number of companies just kept the prices more affordable to struggling new marketing and sales companies and allowed P&A to make a good profit.
In 1942 uranium became restricted in the United States and Aladdin had to change their formula for Alacite. Brass had also become a restricted product in the United States early in the war. Aladdin was allowed to continue using brass for burners because much of America was still unelectrified and the burners were designed around the thermal characteristics of brass.
Through much of the 1970s, 80s and going into the 90s Aladdin had been outsourcing to low cost manufacturers who just were not making parts that fit or worked well. Expensive lamps were being offered for sale that often did not fit or work quite right. It seemed that Aladdin Industries just did not want to discontinue its root business nor did it want to spend the money and effort to revitalize it. The Aladdin lamp division seemed to be sliding slowly towards oblivion as the lamps slowly faded from public memory. By 1998, Aladdins lamp division profits were around 1% of the Aladdin Industries annual income.
Something happened around late 1908 or early 1909. The Mantle Lamp Company which had been selling Practicus lamps under license from the Connecticut Trading Company suddenly stopped offering Plume & Atwood lamps with the Practicus burner and for a brief period offered lamps with the newly developedSunbeam side draft burneron Plume & Atwood fonts.*This was soon followed by the Mantle Lamp Company ending up with an exclusive license to sell the centre draft lamps manufactured by Plume & Atwood under the brand Name of Aladdin. By Summer of 1909 The Mantle Lamp Company of America was offering theAladdin model 1 lamp. The Mantle Lamp Company ceased selling Sunbeam lamps but continued offering the Sunbeam burner, followed by theLumineer burnerin 1913 as an incandescent mantle burner upgrade for owners of flat wick lamps.
The slightly modified model A tooling became the UK model 14 (Super Aladdin) burner that was used through 1953. This burner was also sold into Australia as the model 16A.
Aladdin was to keep its partnership with Plume & Atwood for as long as metal lamps and burners were manufactured within the United States. All American made metal lamps and burners up through the Nashville model C were produced by P&A for Aladdin.
Aladdin letterhead used during the 1940s until Aladdin moved in 1949.
Production of brass metal lamps ceased until the war ended in 1945. Between 1942 and 1945 the only metal lamps manufactured by Aladdin North America were steel font lamps for the caboose lamp market. These font lamps were galvanized inside and out then coated black. Wick cleaners, wick raisers, filler caps and threads made during these years were also made from steel and then plated for resistance to rust. At the end of the war, the steel font lamp was discontinued and brass lamps went back into production.
It appears that the Aladdin model A burner was originally intended to be sold in the United States and the model B was intended to be sold in the UK. The UK model B burner was introduced in the UK market in late 1931. The tooling for this burner was developed and located in the US.
Had it not been for Aladdin Industries UK, Aladdin lamps could have very likely gone out of production sometime between the mid nineteen sixties and seventies. Every Aladdin burner made today is a direct descendant from the model A tooling sent to the UK and the commo
They stamped 1915 – 1916 onto the wick adjuster knob to make sure buyers would recognize the model 6 as the lamp that won at the worlds fair. This is the only model of Aladdin lamp that was ever year stamped on the burner.
Much of this information comes from research compiled by Bill Courter and published in his book Aladdin the magic Name in Lamps. If you wish to learn more about Aladdins rich history I recommend that you purchase and read Bills book. Special thanks to both John Claypole and John Whitehead for the information they sent me about Aladdin UK. It helped put the picture together. The history of Aladdin marketing is very rich and can give you an idea how leading edge marketing techniques evolved during the first half of the 20th century. I highly recommend purchasing and reading Bills book.
In 1954 this tooling was modified to incorporate improvements and reduce manufacturing costs. This reworked burner become the model 21, then later the model 21C. The superior burning and quality English model 21C lamps replaced the P&A made model C lamp in 1963. In 1969 the English tooling was revised yet again and became the model 23.
When Aladdin first started working with Plume & Atwood, they used existing tooling to have their lamps manufactured. As time progressed Aladdins ability to pay for their own tooling increased and the lamps became more uniquely Aladdin.
By 2014 some of the partners running the Aladdin mantle lamp company were ready to retire and the company was sold toLehmansat the end of 2014 and beginning of 2015. The Aladdin Mantle Lamp Company became part of the Crownplace Brands division of Lehmans.
Model 11 top with model 12 base, bottom and burner. Aladdin used up previous model parts transitioning to a new model
I keep wondering how many early transition lamps have been modified by collectors who removed the wrong parts and replaced them with the correct parts. I would imagine that very few model 11-12 transition lamps survive a collector in factory original condition.
Victor Johnson was seeing home and business electrification progressing in the United states and decided to branch out to keep the company strong. Besides opening offices in other countries to market lamps, he formed Aladdin Industries in 1919 to make products based upon vacuum technology. This was followed with ventures into other household products. Lamps were mostly a seasonal product and The mantle Lamp Company needed products that would sell well year around keep the income flow more steady.
As an aside, Chimneys made for Aladdin UK were manufactured by the glass-makers Chance Bros in England, a very large concern that was in business from 1824-1981 and employing over 3,000 people at its height. Records indicate that in 1934, Chance was supplying Aladdin UK with 12,000 chimneys per week. The Hysil trade name often associated with these chimneys derives from Chance – a borosilicate (heat-resisting) glass mixture. The trade name was bought by J A Joblings (the UK licensee of Pyrex) in about 1960.
Unsold inventory is money already spent. It is not economical to throw away parts that are already made if they can possibly be made to fit in the next model. For example the centre draft tube in my early model 2 table lamp has generator seats for both model 1 and model 2 lamps. It appears to be a reworked model one inner wick tube or perhaps a reworked complete table font. The gallery on this model 2 lamp is a model 1 gallery that was reworked to eliminate a top row of holes. Model 3 gallerys are often found on early model 4 lamps. The first model 6 font lamps had the old style bottom plates. Nickel plated model 7-8 gallerys have been found on early model 9 lamps. There are several more examples offactory hybrid lamps and burnersthat used up existing stocks. Thats why I never argue with an individual lamp that has a part or two from the previous model. And I have seen way too many lamps with 12 burners on 11 lamp bodies not to believe the factory used up extra lamp bodies with an undocumented 11-12 transition lamp.
The success of the Mantle Lamp Company was based primarily upon constant design improvements, innovative marketing and the use of American made parts. Very early on the Mantle Lamp Company created a R&D department which worked tirelessly to improve the Aladdin burner. Over the next three years the centre draft burner evolved quickly. There are at least three different versions of themodel 2 lampwhich was offered for sale during a single year
The mantle lamp industry was created in Germany where the incandescent mantle was invented. Designing a mantle lamp burner requires a fair amount of engineering and the technology was developed by a few companies in Germany who saw financial opportunities in expanding their market abroad. A large number of partnerships between German burner manufacturers and American marketing entrepreneurs were formed in America where the marketing company would purchase imported burners, place them on American made lamp fonts and sell the resulting mantle lamps.
The models 1 and 2 lamps used a cap mantle that sat on a cone shaped opening on the gallery. The mantles spatial relationship to the wick depended upon how the user assembled the mantle on the gallery. The result of a cap mantle that was not seated perfectly is a finicky lamp that tended to burst into a carbon depositing flame before the whole mantle was glowing.
In 1915 Aladdin won a gold metal at thePanama Pacific International Exhibitionin San Francisco for having the best kerosene lamp in the world with theirmodel 6 Aladdin lamp.
Printing plate ad for early model B lamps
Aladdin purchased a glass company in 1926 to gain complete control over shade and chimney manufacture. This lead to the introduction of glass lamps in 1932.
The Model 14 burner stayed in full production at Greenford during WW II. Aladdin UK was granted a license by the Board of Trade to buy rolled brass strip from certain ordnance factories because lighting was considered essential.
Many of these lamps can be explained by Aladdins trade in campaign allowing discounts for trading in earlier burners for model 12 burners. But with the depression going strong I do not think this program accounts for all the lamps that have model 12 burners on model 11 lamp bases.
Photographed in a mirror by Stephen Fowler
By this time Aladdins lamp business generated only a very small percentage of the company profit and Aladdin did not want to put any real money into new high quality tooling that might not get a return from lamp sales. The remaining stock of model B burners were allocated to B-53 lamp production and when the surviving stock of burners ran out the model B was discontinued. This lamp with a Nashville burner was the very last of the Aladdin model B lamps, and the last Aladdin glass lamp for a few decades.
When the flood damage was cleaned up, amodel C burnerwas tooled up by Plume & Atwood (small round wick adjuster labeled Nashville) and lamps were made using inexpensive aluminum materials. The aluminum lamps looked cheap and I suspect sales reflected the looks.
I believe that Aladdin today owes its very continued existence to Aladdin Industries Ltd, UK. The British empire imposed strict import tariffs early during the great depression to protect British industry and provide workers with jobs. The Greenford manufacturing plant was built to make Aladdin kerosene heaters, lamps and other products for sale within their empire. The Greenford plant opened in 1932. Before then all Aladdin lamps sold into the empire were of American manufacture, even if the wick adjuster knob said London.
the first lamp sold by the new Mantle Lamp Company of America.
The company tried to have new product to offer customers each year to generate renewed product interest and persuade existing customers to upgrade, much in the same way as the automotive industry. When they did not have functional improvements, Aladdin incremented the model name by one and slid in appearance changes when economical. For instance the model 10 and 11 lamps are marketing upgrades of the second year model 9 lamp. Later the glass lamps allowed Aladdin to continually keep a new mix of products in front of the customer to provide a constant level of excitement. All this without having to increment the burner tooling.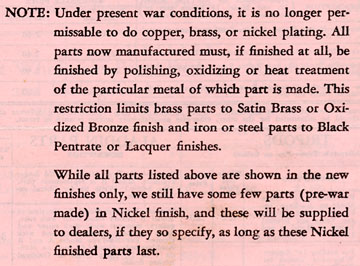 In early 2015 the company assets were transfered from Tennessee to Dalton Ohio.
Inexpensive model C lamps were made in Brazil in 1974-75 primarily for the third world export market and as a low cost alternative to the expensive model 23 lamp in the US market. However the steel Brazilian burners did not work well at all. Sometime during 1975 new Brazilian burners were shipped to Aladdin UK for modification to correct burning problems. The root problem is that the Aladdin burner technology evolved using brass thermal characteristics and the Brazilian burners were mild steel. It was concluded that the design could not work properly with the different thermal characteristics of steel and the Brazilian model C burner was discontinued.
The company did not start out as Aladdin because there was an Aladdin Lamp Company already in existence at the time
In the meantime, Plume and Atwood, having gained experience with the Practicus burner designed a centre draft and a side draft incandescent mantle burner. It appears that the Connecticut Trading Company started offering the center draft lamp developed by Plume & Atwood in April or May of 1908 under the CONTRACO trade name. In the same time frame Plume & Atwood sold their center draft lamps to other companies as well, creating such brands as Kim and Sunlight (not to be confused with the Sunlight brand mantle lamp later manufactured by the E. Miller & Co mantle lamp department for Montgomery Ward).
England had its own burner tooling and was not affected by the flood, but economic pressures led them to revise the model 14 burner to make it less expensive to manufacture. Improvements were added at the same time and the model 21 was born in 1953
And sometimes the advertisement reminds you of Aladdin brand lamps every time you hand sew.
UK model 14 Super Aladdin burner
In 1919 The Mantle Lamp Company created a wholly owned subsidiary named Aladdin industries to develop and sell thermos bottles and other temperature conserving items. In 1949 the two companies merged taking the subsidiary company name, Aladdin Industries. Also in 1949 the Aladdin lamp line was revamped to minimize manufacturing costs with less expensive to manufacture lamp founts and accessories such as wall mounts and bug screens replacing more ornate (more expensive to manufacture) parts. Since post WWII housing construction had lower ceilings, ceiling extensions were discontinued. Less expensive painted finishes were introduced to replace the more expensive plating finishes.
The British government had legislated stiff tariff taxes to products not made in the UK as a way to protect the British manufacturing industry. According to Bill Courter, The model A drawings, a set of tooling and presses were sent from Plume & Atwood to the Aladdin Greenford factory in time to start burner production before the new tariff came into effect.
Interestingly, most American Aladdin Lamp collectors tend not to collect lamps or lamp accessories newer than around 1949. There seems to be little American collector interest in the Last of the model B lamps and the newer lamps that came afterwards.
It all started in 1907 whenThe Connecticut Trading companywas formed and obtained an exclusive license to import and sell the German Practicus incandescent mantle burners in North America. The company quickly saw the advantage of being able to offer complete kerosene mantle lamps as well burners for lamp upgrades and turned toPlume & Atwoodin nearby Waterbury Connecticut to manufacture lamp bases to go with their burner. Thus the American version of thePracticus lampwas born.
Sunbeam lamps were the second type of lamp sold by The Mantle Lamp Company of America
A flood in 1955 severely damaged the Plume and Atwood manufacturing plants. The flood washed away or destroyed the tooling used to make Aladdin lamps and burners. This abruptly ended model B production and the production of new replacement parts for older lamps. Until then model 12 burners, model 6 and 12 flame spreaders and model 6 wick carriers were still in production to help existing customers keep their model 3 through 12 lamps working properly.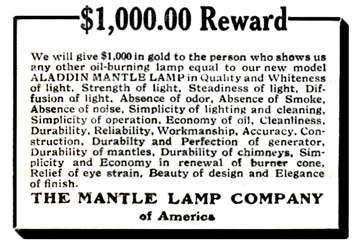 The Australians never made their own burners. They were importing UK model 14 burners and offering them as model 16A burners. They were also importing American model B lamps an offering them as model 16B. After 1954 Aladdin Australia sold lamps with UK made model 21 burners.
The model 23 burner (reworked model 21C burner ) was introduced in 1969. The first model 23 burners were English made. Eventually model 23 burner production was moved to Hong Kong (The English tooling stayed in England and new tooling was made in Hong Kong). There were a number of fit and quality issues with the Hong Kong burners that slowly got worked out over time and through several versions of the burner.
By 1952 sales of kerosene lamps had decreased greatly with the post war electrification of rural America. The glass plant was closed and almost all the lamp molds were destroyed. The mold for the plain stem Washington drape (B-53) and the glass font lamp were retained and an outside company produced lamps from these molds until model B was discontinued.
Blue ribbon won by Aladdin for the model 6 lamp in 1915
I do not know for sure who manufactured glass shades for Aladdin UK, but it was highly likely that this was done by Chance Bros. as well. They had a large department for manufacturing opal-flashed glass. So they had the means to make the shades for Aladdin UK. (This data is from research done on the Chance Bros. by David Encill).
Aladdin started out as such a company and luckily they partnered with Plume & Atwood who had the engineering capability to design their own incandescent lamp burners. This quickly eliminated Aladdins dependence upon burners imported from Germany. During WWI German lamp parts became unavailable in America. Americans suddenly disliked things made in Germany and all the small American lamp companies using German burners went out of business. Prior to WWI all Aladdin chimneys were imported from Germany. Chimney production shifted to the US during and after the war.
Printing plate for an Aladdin parts ad
Victor Johnson realized the importance of marketing to support the companys rapidly growing force of retailers and independent sales agents. The company advertised in periodicals, over the radio and even with slides shown in movie theaters just before a movie began. They were always trying new promotions and ways to sell product. Aladdin devised and offered marketing displays to allow retailers to showcase Aladdin brand lamps.
On 5 April 1999 a group of Aladdin enthusiasts headed by J. W. Courter and Tom Teeter purchased the Aladdin mantle lamp division from Aladdin Industries. Tom Teeter owned a company named The American Lamp Supply Company that offered reproduction and new classic lamps that used the model 23 burner. The merging of the the two companies provided a large increase in Aladdin lamp models. The new company was named The Aladdin Mantle Lamp Company.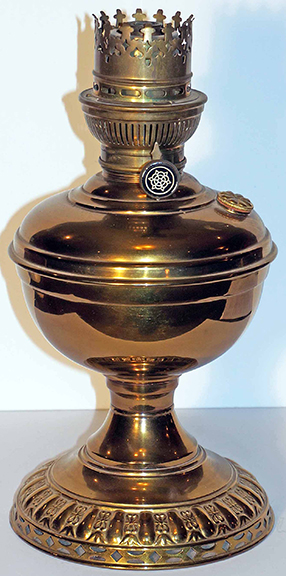 But it was not until 1917 when the model 7 went into production that Aladdin lamps became uniquely Aladdin. It is my guess that the wild success of the model 6 lamp allowed Aladdin to be able to afford their own unique tooling using features that Aladdin quickly patented.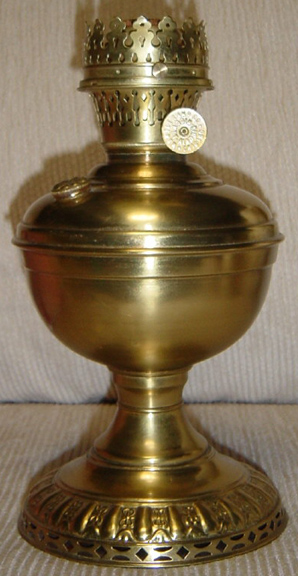 By the late 1980s the Chinese company producing Lox-on chimneys for Aladdin was having problems producing the chimney foot and chimneys were being sold that required reworking of the gallery tabs and sometimes even then did not stand straight on the lamp.
The Mantle Lamp Company received its first patent on 4 April 1911 that covered a new mantle, gallery and generator design. The new mantle effectively moved the cone from the gallery to the mantle and created a controlled more exact spacing by virtue of the mantle locking into the new gallery. Their patent covered the new mantle, gallery and generator (flame spreader). This did two things for Aladdin. It provided Aladdin with complete control over manufacturing and sales of the Kone Kap mantle. And the Kone Kap mantles precision location on the gallery created a much easier to operate less fussy lamp than any competitor had. The new mantle, gallery and flame spreader were rushed into production as quickly as possible and got phased into the model 2 lamp production (model 2-3 transition lamp). Also during that year a new improved the wick raiser design and method of producing threads in the table font were introduced.
The Mantle Lamp Company by any other name…
When Victor Johnson moved to Chicago it appears that his exclusive license to sell Practicus lamps in Minnesota may have been transferred to the Minnesota Trading Company who had been selling Felbollin mantle lamps. Victor Johnson evidently secured a different licensing agreement with the Connecticut Trading Company allowing him a larger sales region for Practicus mantle lamps under his new company name.
During the time span between withdrawing the model B from the UK market and model 14 production starting in Greenfield UK, model 14 burners were manufactured in the US and shipped to the UK. Initially there were there were slight changes made to the tooling of both burners. Some of the model 14 differences between the burners imported from the US and those initially produced in Greenfield might have been differences between the initial 2 sets of tooling.
The Mantle Lamp Company was able to start off the model 1 with three table lamp versions, two hanging lamp versions, a wall mounted lamp and an oil pot lamp because the tooling was already there. The lamp body tooling had already been developed for use with the Practicus and the CONTRACO lamps.

Brass was also restricted during the Korean war and only glass lamps were available during that time. Aladdin Australia made lamp fonts out of steel during the war. Since the outer finish of the WWII lamps was painted, these fonts were not galvanized. Many of the fonts rusted from the inside over time. There are Australian lamps that are part brass and part steel that were made during the transition as existing lamp part stock was used up.
In 1963 Aladdin UK model 21C burners were imported to the US to provide a higher quality alternative to the model C aluminum lamps.
Within a year Victor Johnson moved to Chicago Illinois to form the Mantle Lamp Company of America. In 1908 he filed the incorporation papers and applied for the trademark name Aladdin. He immediately began recruiting sales agents to sell lamps.
During world war II a number of materials needed for the war effort became restricted. Brass was strictly rationed during the war years as it was needed for shell casings and many other uses. First to feel the restrictions was the Aladdin UK division.
There was a limited return of German manufactured mantle lamps between World War I and World War II such as the lamps manufactured by Ehrich and Graetz sold by Montgomery Ward during the 1930s. These of course disappeared when Europe entered into World War II.
In 1932 the first Aladdin glass lamp was introduced with the new model A side draft burner. Glass molds are much cheaper to make than metal form tooling and Aladdin started producing many styles each in several colours so that there was always something new to entice the customer. The customer now could choose among several styles and colours to match their room decor.