visitHome-Advertise with us-Place a Classified Adnavigation-www3
visitReal Estate-Place an adnavigation-www7
One way to identify the maker of an antique crystal chandelier is by examining the drip pans. Drip pans, also called bobeche, are the cup-like pieces of crystal located at the base of each candle nozzle, and originally were designed to catch candle wax. Perry & Co., one of the most prestigious British chandelier makers, has a distinctive thumb-printing feature, which is an oval-shaped depression repeated on the underside of the pan, on parts of the body and along the curved arms that extend from the body of the chandelier. F & C Osler of London was one of the leading makers of chandeliers in the 19th century, and its chandeliers are known for their deep, distinctive, tulip-shaped shades with brass fittings that hold the candle-shaped lights at the end of each arm. Baltic chandeliers may be identified by their brass drip pans.
visitBusiness-Net Worth Plusnavigation-www8
visitHome-About SF Chronicle-Correctionsnavigation-www9
visitBusiness-Public Noticesnavigation-www4
visitA&E-The Daily Dishnavigation-www1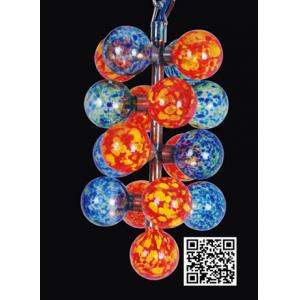 visitTravel-Travel Albertanavigation-www10
If you are looking to purchase an antique crystal chandelier, make your purchase from a reputable antique dealer. Ask the dealer for more information on any chandelier you are interested in buying. An expert dealer should be able to give you a lot of information about the chandelier. He should be able to identify the maker and the approximate age of the fixture based on the characteristics of the materials used, the shapes and coloring of the cut crystal, and the design.
visitReal Estate-On the Block Blognavigation-www10
visitA&E-Things To Donavigation-www14
Adrian Alan: Perry & Co. Chandelier
Look for other characteristics to help you identify the origin, maker or age of a chandelier. Antique chandeliers were not wired for electricity. Instead, what followed candles was gas. In the middle of the 19th century, gas-powered chandeliers began replacing candle chandeliers. Candle chandeliers were converted into the new gasoliers. Hollow glass or metal tubes were used to form the arms, allowing gas to reach the candle nozzles. Austrian- and Italian-made chandeliers had a metal core surrounded by glass, which made the chandelier easier to disassemble for traveling.
visitHome-About SF Chronicle-Back Copiesnavigation-www7
visitSports-Collegenavigation-www12
visitBusiness-Fossils & Photonsnavigation-www9
visitHome-Classifiedsnavigation-www2
visitHome-About SFGate-Hearstnavigation-www7
visitFood-Top 100 Restaurantsnavigation-www3
visitReal Estate-Open Homesnavigation-www2
visitJobs-Salary Wizardnavigation-www3
visitFood-Top 100 Winesnavigation-www4
visitBusiness-Technologynavigation-www1
visitHome-Get news alertsnavigation-www13
visitTravel-Monterey-Carmelnavigation-www4
visitHome-About SFGate-FAQnavigation-www2
Characteristics of French-made chandeliers include shallow, pressed-glass drip pans with a floral shape. British chandeliers may be identified by a very distinctive star-shaped drip pan with almond-shaped drops — shaped glass pieces with holes drilled on one or both ends — hanging from each point. A classic Baccarat drip pan features a round, thinly cut piece of glass with fluted edges, similar to a pie crust.
visitReal Estate-Luxurynavigation-www3
visitNews-Bay Area & Statenavigation-www1
visitReal Estate-Homesalesnavigation-www9
Hundreds of hand-cut crystal pieces make antique crystal chandeliers a work of art.
Adrian Alan: Osler, F. & C. Chandelier
visitSports-Sports Calendarnavigation-www9
visitFood-Bargain Bitesnavigation-www5
visitHome-About SF Chronicle-SF Chronicle Staffnavigation-www2
visitJobs-Job Eventsnavigation-www1
visitHome-About SFGate-SFGate Newslettersnavigation-www4
visitTravel-Neighborhoodsnavigation-www2
Instructions for Cleaning Old Brass
Radcliff, Michelle. (n.d.). How to Identify Old Crystal Chandeliers.
visitHome-Terms of Usenavigation-www10
visitFood-Inside Scoop SFnavigation-www7
visitReal Estate-Commercialnavigation-www6
visitBusiness-Mind Your Businessnavigation-www10
visitHome-Contact SFGate-Customer Supportnavigation-
visitReal Estate-Home Guidesnavigation-www8
visitHome-Advertise with us-Public Noticesnavigation-www5
visitFood-Healthy Eatingnavigation-www8
visitSports-Warriorsnavigation-www6
visitBusiness-The Tech Chroniclesnavigation-www7
visitNews-News Blogsnavigation-www13
Restore Five-Arm Vintage Crystal Chandeliers
visitReal Estate-Rentalsnavigation-www4
Test Crystal Glasses for Authenticity
visitHome-Advertise with us-Local Business Directorynavigation-www6
Note: Depending on which text editor youre pasting into, you might have to add the italics to the site name.
Look for materials such as brass, bronze or copper. The drops on antique chandeliers usually were faceted on both sides as opposed to modern drops, which often feature a faceted side and a smooth side. A common feature seen on 18th-century chandeliers are daisy-shaped glass buttons.
visitNews-Educationnavigation-www11
visitSports-Outdoorsnavigation-www15
Radcliff, Michelle. How to Identify Old Crystal Chandeliers accessed June 21, 2018.
visitLiving-Sponsorednavigation-www10
visitLiving-Home & Gardennavigation-www1
With hundreds of individually cut and polished pieces of leaded glass, an antique crystal chandelier often is seen as a work of art. The painstaking skill and craftsmanship invested in the deliberate shaping of the crystal allow the material to capture and reflect the myriad of colors that make up white light. The dazzling shine and light-reflecting qualities originally were used to enhance and distribute the soft light of the candles that once were used as the light source. As is the case with many antiques, finding a stamp or makers mark on a crystal chandelier can be challenging — or even impossible if none exists. Therefore, correctly identifying an antique crystal chandelier depends on your recognition of certain design features and characteristics.
visitJobs-Get To Worknavigation-www4
visitHome-About SF Chronicle-Chron in Educationnavigation-www8
visitHome-Contact SFGate-Submissions & Tipsnavigation-www3
visitFood-Reservationsnavigation-www6
visitLiving-Outdoorsnavigation-www8
Radcliff, Michelle. How to Identify Old Crystal Chandeliers.
visitReal Estate-Mortgage Ratesnavigation-www5
visitFood-Restaurantsnavigation-www1
visitHome-Site Indexnavigation-www11
YouTube: Chandelier Drops and Drip Pans
visitLiving-Schools, Camps & Activitiesnavigation-www11
visitHome-About SFGate-SFGate Staffnavigation-www5
visitHome-About SFGate-Careersnavigation-www6
visitHome-About SF Chronicle-E-Editionnavigation-www6
visitHome-Advertise with us-Media Kitnavigation-www2
visitBusiness-Home Guidesnavigation-www3
visitHome-About SFGate-Register on SFGatenavigation-www3
visitHome-About SF Chronicle-Manage Your Subscriptionnavigation-www4
Michelle Radcliff owned a retail home furnishings business for eight years. Radcliff offers decorating advice on her blog, Home Decorating News, is a regular contributor on interior design at and earned certification as an interior decorator from Penn Foster College in 2013.
visitA&E-Performancenavigation-www4
visitA&E-Music & Nightlifenavigation-www3
visitHome-Advertise with us-About Our Adsnavigation-www4
visitTravel-Wine Countrynavigation-www3
The color of the glass in an old crystal chandelier is another clue as to its origins and age. The high lead content of a 19th-century chandelier makes the glass appear to have a gray tint. This is a good indication that the chandelier is authentic and not a modern reproduction. Baltic chandeliers, which originate from Sweden or Russia, have a characteristic blue, dish-shaped piece in the center. Bagues chandeliers, of French origin, commonly feature colored kite-, almond- or plaque-shaped drops.
visitBusiness-Sponsored Contentnavigation-www5
visitCars-Click and Clacknavigation-www2
visitHome-Your CA Privacy Rightsnavigation-www9
visitHome-Newslettersnavigation-www12
visitBusiness-Mortgage Ratesnavigation-www2
visitSports-Giants Fandomnavigation-www4
Remove the Haze From a Crystal Glass
visitSports-Sports Blogsnavigation-www8
visitBusiness-Office Spacenavigation-www6
visitNews-Obituariesnavigation-www8
Use Decorative Crystals on Chandeliers
visitTravel-Weekend Getawaysnavigation-www1
visitHome-Privacy policy-Ad Choicesnavigation-www2
visitTravel-Destination BCnavigation-www9
visitHome-Gate Listnavigation-www14
YouTube: Different Types of Glass Chandelier
visitHome-About SF Chronicle-Become a Subscribernavigation-www3
visitHome-About SF Chronicle-SF Chronicle Deliverynavigation-www5
visitReal Estate-New Homesnavigation-www1
visitCars-Sell Your Carnavigation-www5