For more information on how to select an ENERGY STAR certified bulb for each application in your home, view the ENERGY STARLight Bulb Purchasing Guide(PDF, 1.49 MB) or use the interactive onlineChoose a Light tool.
I want to construct an ENERGY STAR certified home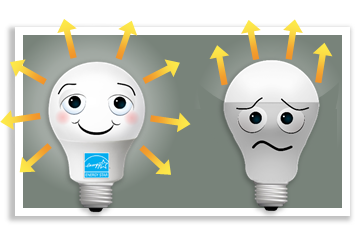 Where can I find the best prices on ENERGY STAR products?
Energy Efficiency Program Administrators
LEDsare incorporated into bulbs and fixtures for general lighting applications. Small in size, LEDs provide unique design opportunities. Some LED bulb solutions may physically resemble familiar light bulbs and better match the appearance of traditional light bulbs. Some LED light fixtures may have LEDs built in as a permanent light source. There are also hybrid approaches where a non-traditional bulb or replaceable light source format is used and specially designed for a unique fixture. LEDs offer a tremendous opportunity for innovation in lighting form factors and fit a wider breadth of applications than traditional lighting technologies.
What rebates are available on ENERGY STAR products?
LEDs are directional light sources, which means they emit light in a specific direction, unlike incandescent and CFL, which emit light and heat in all directions. That means LEDs are able to use light and energy more efficiently in a multitude of applications. However, it also means that sophisticated engineering is needed to produce an LED light bulb that shines light in every direction.
Light distribution requirements to ensure the light goes where you need it
There are more lighting options available today than ever before. Despite that, ENERGY STAR is still the simple choice to save on your utility bills.
Long-term testing to back up lifetime claims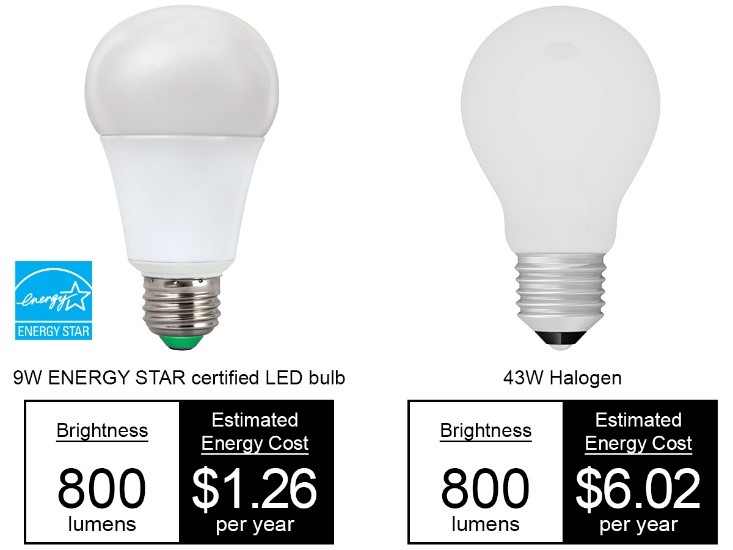 Theuseful lifeof LED lighting products is defined differently than that of other light sources, such as incandescent or compact fluorescent lighting (CFL). LEDs typically do not burn out or fail. Instead, they experience lumen depreciation, wherein the brightness of the LED dims slowly over time. Unlike incandescent bulbs, LED lifetime is established on a prediction of when the light output decreases by 30 percent.
In a CFL, an electric current flows between electrodes at each end of a tube containing gases. This reaction produces ultraviolet (UV) light and heat. The UV light is transformed into visible light when it strikes a phosphor coating on the inside of the bulb.Learn more about CFLs.
Commercial Refrigerators & Freezers
A new home or apartment that has earned the ENERGY STAR label has undergone a process of inspections, testing, and verification to meet strict requirements set by the US EPA. ENERGY STAR certified homes and apartments use significantly less energy than typical new homes and apartments while delivering better comfort, quality, and durability.
LEDstands forlight emitting diode. LED lighting products produce light approximately 90% more efficiently than incandescent light bulbs. How do they work? An electrical current passes through a microchip, which illuminates the tiny light sources we call LEDs and the result is visible light. To prevent performance issues, the heat LEDs produce is absorbed into a heat sink.
Improve financial performance and reduce carbon emissions with EPAs strategic energy management approach.
Find ENERGY STAR certifiedlight bulbsandlight fixtures.
The simple choice for energy efficiency.
And as with all ENERGY STAR products, certified LED bulbs are subject to random testing every year to ensure they continue to meet the ENERGY STAR requirements.
Improving your homes energy efficiency with ENERGY STAR can help to lower high energy bills, improve comfort and reduce greenhouse gas emissions. Learn about the many ways to save in your home and track your progress with My ENERGY STAR – your new dashboard to savings.
How can I save energy with a smart thermostat?
Energy Strategies for Buildings & Plants
Interactive Guide to Choosing Lights
Why should I choose ENERGY STAR® certified LED lighting products?
LED lighting differs from incandescent and fluorescent in several ways. When designed well, LED lighting is more efficient, versatile, and lasts longer.
LED products use a variety of unique heat sink designs and configurations to manage heat. Today, advancements in materials have allowed manufacturers to design LED bulbs that match the shapes and sizes of traditional incandescent bulbs. Regardless of the heat sink design, all LED products that have earned the ENERGY STAR have been tested to ensure that they properly manage the heat so that the light output is properly maintained through the end of its rated life.
I want help with improving my homes comfort and efficiency
Whole Home Tankless Gas Water Heaters
Im upgrading my kitchen appliances. What should I know?
How can I heat and cool my home efficiently?
I want to buy an ENERGY STAR certified home
Energy Efficiency Program Administrators
Learn about Home Performance with ENERGY STAR
Testing to stress the products in operating environments similar to how you will use the product in your home
Learn about Home Performance with ENERGY STAR
What are LEDs and how do they work?
High Efficiency Gas Storage Water Heaters
Id like to know about power management for my computer.
ENERGY STAR products are independently certified to save energy without sacrificing features or functionality. Saving energy helps prevent climate change. Look for the ENERGY STAR label to save money on your energy bills and help protect our environment.
Find Energy Efficient Certified Apartments and Condos
Improve buildings & plant performance
Verified compliance with more than 20 requirements to address performance and labeling
Features of an energy efficient new home
Laboratory Grade Refrigerators and Freezers
LED bulbs that have earned the ENERGY STAR are subject to very specific requirements designed to replicate the experience you are used to with a standard bulbso they can be used for a wide variety of applications. As the graphic on the right demonstrates, a general purpose LED bulb that does not qualify for the ENERGY STAR may not distribute light everywhere and could prove to be a disappointment if used in a table lamp.
Energy Strategies for Buildings & Plants
HomeCertified ProductsLightingLight BulbsLearn About LED Lighting
Commercial Hot Food Holding Cabinets
What type of light bulb should I choose?
Incandescent bulbs produce light using electricity to heat a metal filament until it becomes white hot or is said to incandesce. As a result, incandescent bulbs release 90% of their energy as heat.
Benefits of living in an ENERGY STAR certified home
Residential Windows, Doors and Skylights
3-year minimum warranty requirement
How do I choose the right lighting for my home?
Electric Vehicle Supply Equipment (EVSE)
LEDs use heat sinks to absorb the heat produced by the LED and dissipate it into the surrounding environment. This keeps LEDs from overheating and burning out.Thermal managementis generally the single most important factor in the successful performance of an LED over its lifetime. The higher the temperature at which the LEDs are operated, the more quickly the light will degrade, and the shorter the useful life will be.
Voice over Internet Protocol (VoIP) Phones
5 different requirements for color to ensure quality up front and over time
Light output minimums to ensure you get enough light
I want to find an ENERGY STAR apartment
Common LED colors include amber, red, green, and blue. To produce white light, different color LEDs are combined or covered with a phosphor material that converts the color of the light to a familiar white light used in homes. Phosphor is a yellowish material that covers some LEDs. Colored LEDs are widely used as signal lights and indicator lights, like the power button on a computer.
Your source for energy efficient product information
ENERGY STAR means high quality and performance, particularly in the following areas:
Earn the ENERGY STAR & other recognition
Guidelines for equivalency claims to take the guess-work out of replacement