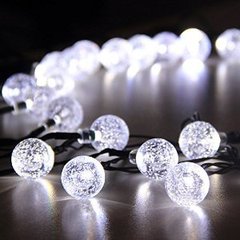 Bell & Howell Solar Mole Repeller Stake
Solar Fence Butterfly Post Light Cap
Charming anywhere in your home, this adorable bunny …
Looking for a clever idea for outdoor lighting for your garden? Browse through our selection of floral outdoor lights and pick up a few of your favorites. Then place them throughout your real flowers. That way, you can have a garden of beautiful flowers during the day AND at night! The possibilities are endless with our selection of unique outdoor lights.
Stone Look Solar Garden Border – Set of 4
Double Pinwheel Wind Spinner with Solar Light
Solar Butterfly Bridge Garden Decoration
Bell & Howell Solar Round Disk Lights
Glass Column Gazing Ball with Solar Light
Memorial Praying Hands Solar Garden Light
Handy tote includes 5 cardboard light winders that hold up to 100 string lights each, top and bottom zippers for easy access, see-through plastic panels so you can quickly see whats inside and handles on each side for easy transport. …
Memorial Praying Hands Solar Garden Light
Wisteria Tree Solar Yard Decoration, 36H
Quickview
Quickview
The bright outdoors! Outdoor lighting is perfect for illuminating the outside of your home or yard. Brighten up your exteriors with outdoor lighting fixtures from landscape lighting and solar lights to outdoor porch lights and patio lights.
Handy tote includes 5 cardboard light winders that …
Quickview
Quickview
Sure to be a comforting presence in a …
Christmas Light Storage Box Tote – 500 Lights
Stainless Steel Solar Path Lights – Set of 10
Harness the power of the sun into beautiful and decorative lighting with outdoor and indoor solar lights. Solar lights make it simple and easy to light up a space while saving you money on electricity through the use of re-usable energy from the sun and a rechargeable battery. Some solar lights are also made to be weather resistant.
Charming anywhere in your home, this adorable bunny lamp is hand-painted with realistic texture & details. The bunny has bright button eyes and a cute pink nose. A 7W bulb is included to cast a warm glow from within. Includes …
Our outdoor lighting department is unlike any other. Our collection of outdoor lights includes everything from solar flag lights, to pool and porch lights, to fun, colorful and whimsical lights. We truly take exterior lighting to a new level with our line of whimsical outdoor lights. Whatever your theme is, weve got an outdoor light for you. Ladybugs, dragonflies, butterflies, turtles, hummingbirds, western, floral, the list goes on and on. And the best thing about our outdoor lights is that they look great during the day and at night.
Sure to be a comforting presence in a dark room, this exquisitely-detailed angel night light radiates with a soft white glow. Beautiful angel features a frosted effect on her skirt and wings. UL listed, fits standard outlets, and has an …
The beautiful crystal cylinder is etched with an …
The beautiful crystal cylinder is etched with an intricate cross and praying hands. The stake is solar-powered and at dusk, it shines with 3 LED lights. Includes 1 AAA battery. On/off switch. Acrylic, steel, plastic. 2 1/2Dia. x 8 1/2H. …
Leaf Branch Solar Garden Lights – Set of 3
Christmas Light Storage Box Tote – 500 Lights