The design features a finely crafted 13.5-inch by 4.5-inch coach lantern with a unique rust finish and only requires a single bulb. The lantern is also encased with a clear glass that complements the rest of its classic design.
This lighting system features gleaming oil rubbed finish complete with a classic metal shade design. Designed to provide adequate illumination like that of a street lamp, it wonderfully blends traditional and contemporary appeal.
Design House 516732 Monterey Outdoor Dark Sky Downlight Oil Rubbed Bronze Finish
This lighting system uses a 60-watt bulb (not included in package) and UL listed, which means you can be sure it has passed through the highest standard of quality assurance. This product also comes with a limited warranty.
Hardware House 544213 13-1/2-Inch by 4-1/2-Inch Outdoor Lighting Fixture Rust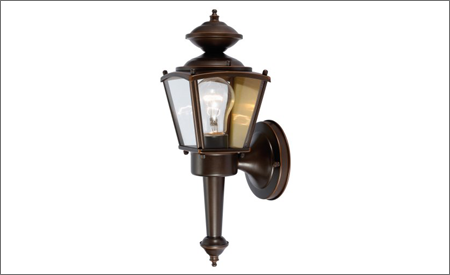 The lantern only requires one bulb, which can either be incandescent or halogen. Inspired by the mission design perspective, you can never go wrong with this beautiful black copper lantern. You can install it in any section or area of your property that requires illumination. This is a perfect deterrent against thieves and intruders with its wonderful glow.
If you are looking for an outdoor light fixture that is built to withstand all types of weather conditions, this lighting system from Trans Globe is designed specifically for use in wet locations.This is perfect for gardens, pergolas and other outdoor fixtures that may expose your lighting system to direct sunlight, rain or snow.
Built for heavy duty use, the construction is designed to withstand the challenge that comes with direct exposure to changing weather conditions. With minimalist design that never goes out of style, you can expect this lighting system to fit right into your existing exterior details.
Design House 516732 Monterey Outdoor Dark Sky Downlight Oil Rubbed Bronze Finish
Outdoor light fixtures are ideal for both commercial and residential applications. Among the most common varieties include motion lights, floodlights along with larger lighting systems that can illuminate larger spaces such as arenas and parking lots.
If you are looking for an adjustable outdoor lighting system, the Hardware House544213 offers you the best combination of both form and function. It features a dimmable option, which means you can easily adjust the level of illumination depending on the lighting needs and requirements.
Featuring a UL listed fixture, you can expect premium quality and exceptional durability to last for years. This outdoor lantern provides illumination with a down facing light bulb with a 9-inch height, 4-inch top width and a 4.5 bottom width, just the perfect size to provide unobtrusive lighting.
Outdoor light fixtures are specifically designed to deliver both form and function. They are a low voltage lighting solution that is commonly used to improve safety and security of a property as well as add character that will contribute to the overall look and feel of the home.
This lighting solution is designed to be glare-free for enhanced illumination and features precise color rendition, making it the perfect choice for backyards and porches. With a built-in mounting system, you can look forward to a fuss-free installation that doesnt require that assistance of a professional.
Trans Globe Lighting 40455 BC 8-Inch 1-Light Outdoor Wall Lantern, Black Copper
With so many outdoor lighting fixtures available on the market today, it can be difficult to choose from the wide variety of designs. To help you choose one that best fits your specific requirements, there are certain factors that you need to take into account. This includes your existing landscaping, the characteristics of the property as well as the amount of coverage to require.