through this interactive photo gallery that weaves together a series of interrelated themes, events, and individuals that helped shape Indias history.
Click a hotspot or a link labeled with
Popups and info boxes can be moved around the screen byclicking and dragging on the top bar of the popup (6)

Started by Indian entrepreneur L.G. Pathak, Pataks distributes Indian food products in the USA and around the world. Find out more about how to enjoy the tastes of India by visiting us online at
Click theDisplay All button (5)to display all popups stacked up below the photo.


© 2008MayaVision International.All rights reserved.
Click the yellowExplore the Topic bar (1)to reveal information about the photos topic. Click theShow Hotspots button (2)to displayhotspots (3)on the photo.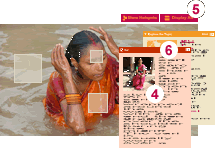 Links within a popup that do not have an icon will take you to another page in the photo gallery.

The Story of India is made possible by contributions from viewers such as yourself and also by Pataks Indian foods.