1948- 20,000th Beetle produced. Beetle modified into convertible.Henry Ford II given opportunity to buy the Volkswagen company, but decides against it; 24 years later, the VW Beetle would out-sell the Ford Model-T, becoming one of the worlds top selling cars.
1963- Seven-millionth Beetle produced
1978-Last official German-built Beetle rolls off assembly line at Emden VW plant.
1951- January 10: Ferdinand Porsche dies.
I acquired my cars Birth Certificate from the Stiftung VW AutoMuseum in Wolfsburg, Germany. It confirms that the engine in my car is not the original. It was probably changed when it was restored in 2006. The original color of my car was Pearl White with Pigalle (a dark red) leatherette upholstery; Pearl White wheel rims with Black wheel discs. My car was built 12/7/1965 in Emden, Germany; left the factory on 12/17/1965; then exported to San Antonio TX.
It is widely reported that 2018 will be the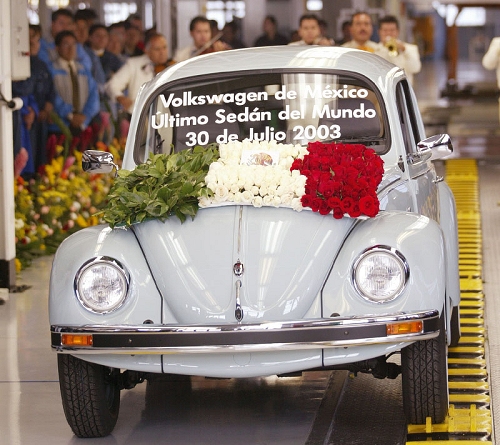 Some creditBla Barnyias having conceived the basic design for the Volkswagen Beetle in 1925. Barnyi was a Hungarian-Austrian engineer, regarded as the father of passive safety in automobiles. He was born near Vienna, Austria in 1907. After mechanical and electrical engineering studies at the Vienna college, he was employed by automobile companies Austria-Fiat, Steyr, and Adler (predecessor of Audi) before joining Daimler-Benz in 1939. He is credited with developing the concept of the crumple zone, the non-deformable passenger cell, the collapsible steering column, safer detachable hardtops, and more. After he died in 1997, Mercedes stated, No one in the world has given more thought to car safety than this man.Josef Ganz
Update: Within days of it being posted on eBay, this item was removed. Hmmmm, very interesting.
1970- Super Beetle introduced.Last year convertible Beetle in standard format is available (only convertible Beetles in Super Beetle format are available).
1938- Thirty prototypes (called Series 30) completed
This pin was offered on eBay (item 7, June 2018) for $1,500. According to the seller,
1952- First official gathering of Beetle owners.Canada imports its first Beetle.1953- 500,000th Beetle produced.VW plant opens in Sao Paulo, Brasil.
1981-Twenty-millionth Beetle produced(in Puebla, Mexico)
One cannot trace the origins of the Volkswagen Beetle without mentioning Adolf Hitler and Nazi Germany. While I do not avoid discussing that connection on this web page, I also do not in any way mean to deny, dismiss, ignore, obscure, or minimize the absolute evil of Adolf Hitler and his regime.
In 1945, the factory at Wolfsburg was located in the British occupation zone. It was placed under the control of British Army Major Ivan Hirst. There was no longer a need for military vehicles, so Hirst resuscitated the Volkswagen project and started filling an order from the British Army for 20,000 cars. The factory was later offered to various car manufacturers, including Henry Ford II, but no interest was shown. (Note: The VW Beetle would surpass the Ford Model-T in 1972 as the top selling car of all time— 21,529,464 units, a title it would not soon relinquish.) In 1949, Heinrich Nordhoff, a former senior manager with Opel, took over the project from Major Hirst.
My cars pale green color is not a 1966 VW color. Photographs of my car often suggest it is a powder blue, but it is definitely a pale green. When the car was restored in 2006, the owner used Sherwin-Williams Automotive paint 4961215. Unfortunately, automotive paints dont always have a known PMS or Hex equivalent. Using the photo of my cars dashboard, I determined that CEDBD1 is probably a close guess.
1964- Eight- and Nine-millionth Beetles produced
A replica of a lapel pin believed to have been given away at the dedication of the VW factory at Fallersleben on July 1, 1938. Fallersleben was constructed to be the home of the new Volkswagen factory. The facility was dedicated by Adolf Hitler. It is said that it was in Fallersleben that the iconic Beetle was born. Fallersleben was renamed Wolfsburg in May 1945, and is now the home to Volkswagen AG. VW Beetle production continued at Fallersleben/ Wolfsburg through 1978. Stadt des KdF-Wagens (Home of the Volkswagen, Fallersleben).
This coin (medallion?) was issued in 1961 to workers at the Wolfsburg Germany Volkswagen factory to commemorate the production of the five-millionth VW Beetle. The coin bears the image and signature of the legendary
5 passengers (they should be friends)
1962- VW of America headquarters at Englewood Cliffs, NJ, dedicated.Six-millionth Beetle produced.

1998- Production model of New Beetle unveiled at Detroit International Auto Show. Only vaguely similar to the classic Beetle, the New Beetle has engine in front. (Also see 2018.)
A replica of a lapel pin believed to have been given away at the cornerstone-laying of the VW factory near the 14th century Wolfsburg Castle, west of Berlin, Germany, on May 26, 1938. Adolf Hitler and Dr. Ferdinand Porsche were among the 2,000 guests that day. On display were three VW Type 38 KdF vehicles: a dark blue sedan, a black sunroof sedan and a dark burgundy convertible. The KdF sedan was a split-window Beetle, and would serve as the post-war Volkswagen design for decades to come. The Wolfsburg factory became the worlds largest auto factory under one roof. Laying of the Cornerstone, Volkswagen Factory, May 1938.
1,080,165 units produced in 1966 production year
last model year for the New Beetle.
1939- May 26: Ceremony commemorates laying of cornerstone of VW factory at Wolfsburg, west of Berlin. It would later become the worlds largest auto factory under one roof.
1974- June: The last of 11,916,519 Beetles produced at Wolfsburg plant rolls off assembly line.
1999- New Beetle turbo available to US dealerships
A postage stamp from the 1939 Auto Exposition in Berlin, Germany. It shows an artists rendering of a KdF-wagen.
1950- 100,000th Beetle produced, of which 1,000 were convertibles.Ferdinand Porsche celebrates 75th birthday; finally visits Wolfsburg plant; cries when he sees Beetles on the Autobahn— his dream car has become reality!
1968- First year Beetles have plastic dashboards (previous years were all-metal dashboards).
1942- German army vehicles (Kubelwagens) built; German amphibious army vehicles (Schwimmwagens) built
Top-Selling Vehicles of All TimeToyota Corolla (43 million units)
1966- Eleven- and Twelve-millionth Beetles produced
1936- At Berlin Auto Show, Hitler announces that Porsche will design a Volkswagen (Peoples Car). Porsche promises Hitler he will produce three prototypes by years end.
1961- Five-millionth Beetle produced.
If true, will VW later decide to bring it back, perhaps as an electric model? Stay tuned!
1972- February 12: 15,007,034th Beetle rolls off assembly line,breaks Ford Model-T record for total production.
4 cylinders, 1.6 Litres; manual transmission; front disc brakes, back drum brakes; fuel 10.57 US gallons
160.2 long, 60.2 wide, 59 tall, 94.5 wheelbase, 36 ft turning circle
The Think Small advertising campaign began in 1959. It was,the best advertising campaign of the twentieth century,according toAdvertising Agemagazine. It was the genius of the Doyle Dane Bernbach (DDB) advertising agency in New York.It did much more than boost sales and build a lifetime of brand loyalty… the ad, and the work of the ad agency behind it, changed the very nature of advertising, from the way its created, to what you see as a consumer today.The first ad of the campaign was Lemon. It explained how 3,389 inspectors meticulously examine each VW Beetle before it is shipped to the USA. This Beetle missed the boat due to a blemish near the glovebox. We pluck the lemons, you get the plums.
My favorite VW TV ads:1949 Auto ShowandFuneral Procession
Updates:On 7-3-2017, I ran another Google search on this car. There were several references to it being offered on eBay, but all of the links went to an inoperable eBay listing, suggesting to me that perhaps the seller— or eBay?— had second thoughts about selling this car.One website suggested that this car (serial 5033568) may have once been owned by a Frenchman, Jacky Morel, then shipped to the USA by car collector Jesse James, owner ofAustin Speed Shopin Austin TX.Another Google search indicates this car was built 1-31-1944 and delivered on 8-2-1944.On March 15, 2017, an article by Sebastien Bell ) reported that this car was delivered to Hermann Grings office. It is not known, however, whether Gring ever really sat in this car(evidently he preferred a Mercedes 540K). While this KdF may have indeed been delivered to Grings office, it was likely handed over to some other Nazi official. Bells story matches other information I found regarding ownership by Jacky Morel, then USA collector Jesse James.There seems to be a fair amount of mystery and speculation about this car— rightfully so, considering its reported direct association with Nazi evil. I do not know how much of the information above is accurate. This car seems to have quickly vanished. I will keep researching. Stay tuned… film at 11.
1949- January 17: First Beetle bought in USA by Ben Pon. Max Hoffman becomes first importer.
1945- May: World War II ends.British forces take control of Wolfsburg area. Porsche interrogated by Allied Forces for his alleged connections to Nazis. Porsche is cleared, but then imprisoned in France with son Ferry for two years.
If you loved the Think Small print campaign, you would love the excellent coffee table bookRemember Those Great Volkswagen Adsby Alfredo Marcantonio, David Abbott, and John ODriscoll.
The Type 60 pictured above was delivered to the German Red Cross at Potzdam Babelsberg in Berlin on June 1, 1943. Representatives of The Red Cross, an ostensibly neutral international organization, visited and were posted at prisoner-of-war and Nazi concentration camps, which may account for the cars later discovery in Poland. The type 60 above was advertised for sale in a Polish provincial newspaper in 2000 and noticed by its current owner, Dr. Robert Mac Jones of Jackson, TN. He dispatched a connoisseur to view the car who discovered that it was indeed an authentic VW KdF. The car was purchased and taken to Germany, where it was delivered to Peter Schmalbach in Frankfurt-am-Mein, the leading expert on Wehrmacht vehicle restorations. After Schmalbach died, the car was sent to Christian Grundmann in Hessisch Oldendorf for further restoration work, using original KdF parts as appropriate, before dispatch to Hermann Schimkat for final inspection. Dr. Jones, who had rigorously researched this KdF to ensure the details were correct, received the completed car in Belgium, then drove it 250 miles to a major Volkswagen show where it was received with much enthusiasm and reviewed in many magazines. It was then shipped to Jones home in Tennessee in December 2013, part of his collection until March 2016. It was then shipped to G&S Motors of Fletcher NC for cosmetic detailing and mechanical servicing, which included an engine-out service.
A sketch reportedly drawn by Adolf Hitler and given to famed automaker
1947- Wolfsburg plant produces 19,000 cars; exported to Holland. Two hand-made convertibles built.
Battery: 6 volt (my car was later changed to a 12-volt system)
1946- 1,785 cars constructed, mostly by hand; used as army light transport vehicles
It was sometime in the 1950s when people started calling itKfer,German forBeetle.In France, it would later become known as theCoccinelle, French for Ladybug. (While many people today call it a Bug, the official name is the Beetle.)
This1943 KdF-Wagen(Kraft durch Freude or Strength through joy) was offered for auctioned atThe Elegance at Hershey(PA) on June 11, 2016. Estimated sale price: $275,000-$350,000. It did not sell. (See additional text below these photos.)
The following text accompanied the listing above for this1943 KdF-Wagen (KdF), Type 60 VW Beetle coupe, chassis number 1-019477. I modified the text a bit for clarity.
Production of the Porsche-designed car was to start in September 1939. A few Type 60 and Type 4WD 82e KdF-Wagens were built between 1939 and 1944, but production inevitably focused on military vehicles such as the Kubelwagen and Schwimmwagen. For most of the war, the KdF plant escaped heavy bombing because the new town was not on many allied maps. From 1944, the Wolfsburg factory manufactured the V1 flying bomb until US bombing raids destroyed the factory. KdFs between 1937 and 1944 totalled about 840 units. KdFs were allocated to low-profile top Nazi officials.
1 in diameter, roughly the size and weight of a US silver dollar. It is often found on eBay for about $200. I bought this one for way less. 🙂
Fuel efficiency: 28.5 miles per gallon
It is said that long before he seized power in 1933, Adolf Hitler envisioned an inexpensive car that the typical German family could own and enjoy. The car could be driven along the sweeping highways that he wanted to build throughout Germany. Once in power, Hitler assigned the task of designing the car to famed automaker
Bumper-to-bumper restoration in 2006.
1934- Nazi leader Adolf Hitler commissions Porsche to develop the KdF-Wagen (Kraft durch Freude or Strength through joy), forerunner of what we know today as the Beetle.
Changes, Improvements, Modifications
When I bought this car (Oct 2016), the odometer was 1,513 miles— re-set when the engine was completely rebuilt.
1975- Last year for Super Beetle production
1977- Last year for standard Beetle in USA; only Super Beetle convertibles remain.
1938 KdF-Wagen Brochure(KdF) – These eight panels comprise a 1938 brochure to impress the German people with the idea of the KdF-Wagen (Kraft durch Freude or Strength through joy). What was promoted as being an affordable car for the common German citizen never materialized for anyone other than Nazi command staff. So much for the peoples car.My thanks to Seth Emerson who is currently in the process of translating the German text to English. That old German-style font (I think its called Fraktur) doesnt make this translation project any easier. Thank you for your help, Seth!
who shared a similar vision for such a car. By 1938, designs were completed, and a factory site was selected in the town later to be known as Wolfsburg, west of Berlin. Hitler announced the cars name: The KdF-Wagen (Kraft durch Freude or Strength through joy). The name never became widely used by the German public. It was more commonly called the Volkswagen, or peoples car. As it turned out, no common German citizen ever owned a Volkswagen while the Nazis were in power. By the outbreak of war in 1939, only about 630 cars had been built, and nearly all of those went to Hitler and his military officers. (So much for the peoples car, eh?)
1967- First year Beetles use a 12-volt battery (previous years were 6-volt)
Acceleration: 0-60mph in 23 seconds (no whiplash in this car!)
Dutch journalist Paul Schilperoord reports in his book The True Story of the Beetle (written in Dutch) that the Volkswagen Beetle was the brainchild of Jewish engineerJosef Ganz. According to Schilperoord, In 1929, Josef Ganz started contacting German motorcycle manufacturers for collaboration to build a Volkswagen prototype. This resulted in a first prototype built at Ardie in 1930 and a second one completed at Adler [predecessor of Audi] in May 1931, which was nicknamed the Maikfer (May-Beetle). Schilperoord says Ganz was a student and wanted to design an inexpensive car. He often crashed with his motorbike— What he really wanted was a car which was a lot safer, but just as affordable as a motorbike. Schilperoord says Ganz first production model was called the Standard Superior. It appeared in Spring 1933 (in May when the May beetles fly) at the Berlin Motor Show. Adolf Hitler, appointed German Chancellor in January 1933, opened the show and saw the Standard Superior. Hitler showed interest in the prototype. Such a car fit his plans to motorize Germany. Instead of ordering the Standard car factory to develop and produce the Jewish-designed car, Hitler looked for another German developer to take over. A sketch from the 1930s, allegedly made by Hitler himself, shows the outlines of a car resembling what we know today as the VW Beetle. The drawing is said to have been given to carmaker Daimler-Benz which apparently turned down the opportunity before it was given to Ferdinand Porsche. According to Schilperoord, Ganz later left Germany for Switzerland where he tried in vain to reclaim intellectual ownership of the Beetle. His name carefully erased from the history books by Hitler, Ganz moved to Australia in 1951. He died in 1967. (A great website:Josef Ganz: True father of the VW Beetle)Dr. Ferdinand Porsche
A light-weight die-stamped badge with six crimps on the back, holding a thin layer of waxed cork (the brown you see here is the cork). I think collectors call these type of badges tinnies. A simple pin glued onto the cork on the back. Nazi eagle and swastika, KdF-Wagen, Gautag (?) above a fishing boat, Ost-hannover (East Hannover) 1939, and some kind of outdoor sculpture or forest scene. It was allegedly given to participants of some conference held in East Hannover in 1939. A transportation conference perhaps? I have seen several variations of this badge, with various materials used as backing— mine is cork.
Rare piece of automobile history. Heavy metal medal commemorating Hitlers peoples car. Original Volkswagen Beetle car with gear. Grunsteinlegung des Volkwagenwerks Mai 1938. Reverse pinback, reads RZ GES. GESCH. Extremely rare piece. The bar pin is missing.
1944- Allied bombs destroy most of Wolfsburg factory
This website focuses on the Volkswagen Beetle and its predecessor the KdF-Wagen. I intentionally do not include the history of the Nazi staff car Kbelwagen nor the Nazi amphibious vehicle Schwimmwagen (Schwimmfhig), both of which were early cousins to the KdF-Wagen. My thanks to all whose photos appear here, and to all whose writings helped build this summary of the Volkswagen Beetle. This web page is supported with private funds. It is intended for educational and entertainment purposes only. It is not associated with Volkswagen, Volkswagen Group, Volkswagen Aktiengesellschaft, VW AG, Volkswagen of America, or any similar agents. The terms VW and Beetle are trademarked by Volkswagen AG, and used here only for descriptive purposes.
This1947 VW Beetleappeared in Hemmings Motor News in December 2016 (ad 1895839). Offered by a private seller for $120,000 (or best offer), the seller says it was shipped from the USA to Turkey in 1993, then restored. Painted RAF blue— the original color. It has been on display in a museum in Turkey since restoration. The price includes shipping and insurance to North America or Europe.
This1944 KdF-Wagen, Type 82e, was listed on eBay (item 7) in March 2017 for $525,000. A few days later, the ad had been removed. Sold perhaps? According to the Austin TX seller, this car had been issued to Nazi Reichmarschal Hermann Gring. The seller reportedly had an abundance of authentic documentation, and described it as possibly the rarest KDF/VW in the world. (See my updates below these photos.)
. According to Wikipedia, Nordhoff was a German engineer who led Volkswagen for 20 years (1948-1968), rebuilding the company after World War II. He turned the VW Beetle into a worldwide automotive phenomenon. He pioneered the idea of constant improvement while keeping the basic style the same. He gave liberal benefits to Volkswagen workers and increased pay scales. Within six years after taking over Volkswagen, Nordhoff reduced the number of man-hours to produce a single car by 75%. His commitment to improving the workmanship at Volkswagen made the Beetle famous for its bulletproof reliability.
– Dr. Ferdinand Porsche (1875-1951) draws first sketches of a simple little car that common citizens could own and enjoy.
1959- Three-millionth Beetle produced
The last original VW Beetle rolls off the line on July 30, 2003 at the last remaining production facility in the world (Puebla, Mexico)— 63 years after it was unveiled to the public in Nazi Germany in 1940. The last ofwas immediately shipped off to the companys museum in Wolfsburg, Germany. In true Mexican fashion, a mariachi band serenaded the last car.
1960- Four-millionth Beetle produced
1955- April: VW of America formed.One-millionth Beetle produced.
The Nazis told the German people they could use a stamp savings book to record payments toward a future KdF-wagen using Revenue Savings stamps, each stamp representing another payment toward their car. The plan to produce an affordable car for all Germans never materialized for anyone except those in the Nazi upper command.
Future projects: Research how I can improve the gas pedal. It currently requires too much force to press down. I am not opposed to replacing it with some new design. Also, examine gears/transmission. Seems dropping it into first gear is a bit more difficult than it should be.
1 wide. I do not doubt its authenticity as an original. But for $1,500, I think Im pretty happy with my $20 replica above.
2003- July 30:Last Beetle (21,529,464th) rolls off assembly line(in Puebla, Mexico)
Things Ive done to my car since I bought it in October 2016. Many of these were completed with the excellent help of my buddy Jerry P. and my local ace VW technician Ballard M.Added an adhesive-backed 3 convex mirror to the front of the 3 outside drivers side mirror. (Convex mirrors have saved me many times. I do not mind trading a little historical authenticity for a large amount of safety.)Removed antenna and covered the two existing holes with the rubber gasket from the antenna assembly. (No radio, so why keep the antenna?) Used two nylon automotive inserts to secure the gasket.After the left headlight burned out, replaced both headlights with Wagner halogen lamps. And since the headlight assemblies were already off the car and open, also replaced both turn indicator bulbs.Removed both door panels, lubricated window assemblies so windows roll up/down much easier, much more quietly; adjusted internal latch mechanism so passenger door could be opened from insideRemoved and serviced windshield wiper motor assembly so that both wipers now workDiscovered that windshield washer nozzle was not hooked up. I will leave it that way.Replaced both exterior door handles; Jerry customized interior mechanism of driver side door handle to improve operationReplaced both interior door handles, both interior window cranks and the four interior escutcheonsReplaced weather seals on both doorsReplaced original cardboard glove box with a black plastic glove box; replaced both rubber bumpers so glove box door more easily pops open.Replaced both defrost hosesReplaced all 56 clips and boots holding both door panels in placeReplaced VW logo hood (bonnet) emblemReplaced both hinge pins in driver door (thank you John atState of Mind Customs in Oxford MI)Trimmed driver side exterior door molding 3/8 for better fitReplaced driver door jam light switch and rubber gasketReplaced both front bumper bracket rubber seals; adjusted front bumper brackets to better accommodate the bracket rubber seals.Replaced numerous broken retainer clips that hold hubcabs to wheels (5 per wheel)Tightened both rear axleshaft nuts (36mm socket) to prevent any possible wobble; replaced both cotter pinsReplaced horn contact ring and steering wheel Wolfsburg center emblemMy thanks to members of theMichigan Vintage Volkswagen Clubwho told me that my front turn indicators are probably a custom design. A previous owner probably removed the turn indicators from on top of the fenders (where they should be for a 1966 VW Beetle Sedan) and wired the running lights (located within the headlight assemblies) as turn indicators. I would never choose to customize my car this way, but since it is already done by a previous owner, I will leave them as is. (Actually, I think they look pretty cool this way.)Replaced generator belt. Used 6 of 10 shims. Will remove some shims after a few hundred miles to reduce slack that will naturally develop.Added hose clamps to ends of gas line after leak was observed. Leak solved.Had all three seats reupholstered with charcoal tweed cloth, replacing the navy blue vinyl.Replaced air filter element.Replaced all four shocks. It now rides smoother and a bit higher than before. I dont like the lowered Southern California look. I much prefer a stock Beetle, and these new shocks get it there nicely!Changed registration to authentic Michigan license plate AD6666When left rear brake locked up for no apparent reason, examined star wheels on brake adjusters. Found retaining clips that inhibit start wheels from rotating were missing from left rear brake. Wired star wheel to prevent unintentional rotation. Also, replaced right rear brake drum and both front brake drums.Replaced all front-end ball joints, and mounts for stabilizer bar. Wow— learned a LOT from this project!Discovered Westleys Black Magic Blech-Wite tire cleaner. Excellent for cleaning white walls! Bad news: may now have to re-photograph my car! 😉
1940- KdF-Wagen unveiled to public at Berlin Auto Show.Germany goes to war.
The KdF-Wagen was the first example of what we know today as the Volkswagen Beetle. It was reportedly designed in 1937 by Erwin Komenda under the leadership of Dr. Ferdinand Porsche who had received instructions from Adolf Hitler to create a peoples car. Komendas aerodynamic styling included the split rear windows because curved glass was inordinately expensive. Stuttgart-based coachbuilder Reutter created the classic shape that would remain virtually unchanged until 1967. On May 26, 1938, Hitler laid the cornerstone of a new factory near Fallersleben, Lower Saxony, that would produce the Kraft durch Freude (Strength through joy) or KdF-Wagen. The adjoining new town would be known as KdF-Stadt (it was renamed Wolfsburg after WWII). Hitler also introduced a savings scheme where aspiring owners could collect stamps that would eventually pay for their car.
1966 was the only year the 1300 engine was offered
Maximum and cruising speed: Officially 74mph (seriously??!!)