Orders of 10+ boxes call for better shipping rates.
Problem:Damaged, Rusting, Chipping, Dirty Vents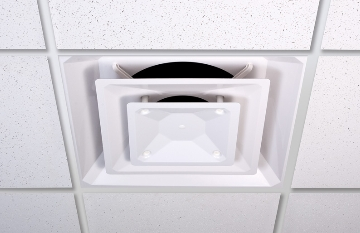 HomeAbout UsBrochureContact UsConditionsReturnsCeiling CalculatorCeiling GalleryMore Info
They are made of durable ABS material making them rust proof, waterproof, washable and easy to clean. They will not chip or bend. They are Fire Rated and UL 94. You will never have to sand, paint or replace your air vents or air returns again.
The Air Returns are available in the same three colors:White, Black and Beige.
You can further protect your ceiling using ourAir Deflectors and Diverters. Great for keeping the dust and moisture blowing out of your vents from accumulating on your ceiling tiles and grid.
We offer a variety of Air Vents and Returns suitable for the air conditioning and heating requirements of your suspended ceiling.
The neck is 2 inches tall making for easier connections and we have collar diameters from 6 inch to 16 inch; we even have a universal collar option so you can cut it to the size you need at installation.
Solution:Our Waterproof, Rustproof, Chip Proof & Washable Vents & Returns
Our HVAC Vents are available in three colors: White, Black and Beige and feature 4way, 3way and 2way airflow configurations.