Visit our blog which offers design tips, lighting ideas and inspiration. Read more at Flip the Switch.
No time to visit a showroom? No worries.
Lighting experts to plan your lighting layout
Home dcor including door and bath hardware
Staffed every weekday, each order is carefully picked, labeled and readied for shipment to a showroom or job site.
If you are a reseller and/or qualify for non-taxable purchases, you can submit your permits through any of the following methods:
New Years, Easter, Memorial Day, Independence Day, Labor Day, Thanksgiving and Christmas.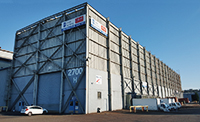 John Dolan opened his first electrical and plumbing store, A-Boy Supply, back in 1960. With nothing but his resolve and the responsibility of a large family to feed, John worked tirelessly to make ends meet. As his business began to thrive, he recognized the need for a store that specialized in lighting fixtures to solve a need. A place where builders and homeowners can find not only the products they need, but a commitment to product knowledge and customer service they can trust.
With over 98,000 products from 100s of top brands, plus 4,500 exclusive designs, its easy to see why Globe Lighting has been the Northwests most trusted lighting store since 1978.
Globe Lighting has remained a fixture in the Pacific Northwest for fine residential lighting products since the first store in 1978. With a focus on quality lighting,  exclusive designs, and a commitment to customer satisfaction, Globe Lighting is the store you can trust.
With six showrooms conveniently located throughout the greater Oregon area and our Clearance Outlet in Portland, theres bound to be a Globe Lighting store near you.
In addition to light fixtures, we offer a wide selection of services and products you wont see at other lighting stores.
John went on to open the first Globe Lighting store in Southeast Portland in 1978. The demand was so high that a few months later he opened a 2nd store in Beaverton. And it continued from there.
Portland, OR 97209-1735Email:Fax:We are closed on the following holidays:
Our distribution facility contains over $5 million in ready-to-ship lighting inventory from over 200 manufacturers.
You can also browse online and see our full catalog of products at
Light switches, dimmers, and controls